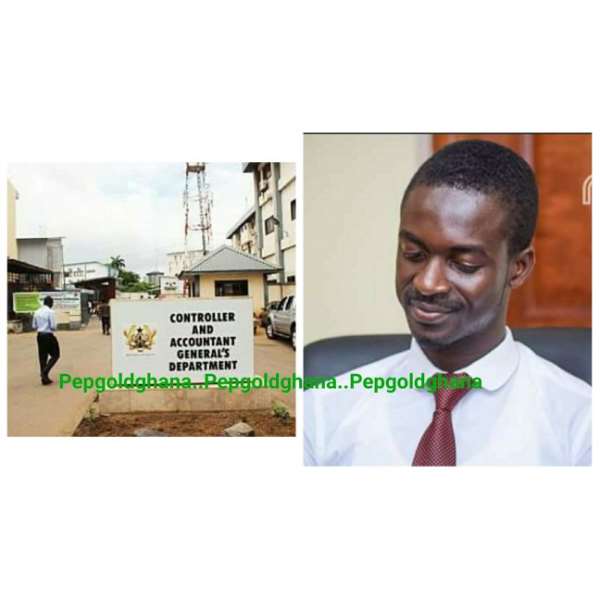 This is my first write up on Controller and Accountant General Department (CAGD) . The good people of Ghana, especially government workers must have interest in reading and sharing this to ensure a positive change in the system.
The Controller and Accountant General's Department was established under the Civil Service Act, 1960 (CA.5). The constitution and the Administration Act, 2003, Act 654 provides the legal framework that governs the operations of the Controller and Accountant General's Department and the functions of the Controller and Accountant-General of Ghana.
Mission
We exist to provide public financial management services to the Government and the general public through efficient, skilled, well-motivated and dedicated staff, using the most appropriate technology.
Vission
Our vision is that of the public service with positive culture, client – focused and result oriented, constantly seeking ways to improve the delivery of financial management services to the Government and the general public
Core Values
Putting customers first.
Meeting the needs and aspirations of Government and its citizens.
Serving the whole country. We aim to serve our customers with diverse interest.
Acting with integrity. We aspire to act with honesty, openness, transparency in the delivery of our duties.
Valuing people. We value people by creating a culture that celebrates excellent service.
Continuous improvements and innovation. Through continuous improvement and innovation we are able to improve and increase customer satisfaction.
After reading the vision, mission, core values and functions of the CAGD, I can confidently say CAGD has failed Ghanaians massively.
In your core values, you claim you put customers first, thereby meeting the needs of government and citizens.
Like seriously? This sounds like a joke.
So why and how are government workers having sleepless night due to unnecessary disturbances from different companies we have nothing to do with?
Legacy Savings and loans, one Mr Bortey with contact number 02430****/050712****
LEGACY CAPITAL now offer instant loan to all Gov't workers from 500 up to 100,000. Please for enquiries call BENEDICTA ON 05567****. Just in 20 mins.
"LEGACY- Quick Loan, You can apply from Ghc 500 to Ghc 60,000 within 45minutes. Call BEN on: 02468***** / 050255****. Thank you"
"NEED AN INSTANT LOAN FROM 300 TO 40,000 WITH AFFORDABLE RATE WITHIN 30MINS? THEN LEGACY CAPITAL IS HERE TO ASSIST.CALL/WHATSAPP ADOM ON 05048****/054202****.
Dear,SIC LIFE is now offering INSTANT LOANS to all gov't workers at lowest repayment rate.Call Mr.Francis on 024710****/020105****/055060***** for your loan
"Dear CAGD staff, SIC life is now offering INSTANT LOAN to all gov't workers with low rate of repayment, call Mr Boateng on 050214*** / 024510**** for enquiries
"Pls are you a gov't worker?And in need of emergency loan from GHc200 to GHc50,000?Then call LEGACY capital now on 02094**** or 024001**** for a quick response
Hello, we now offer financial assistance from GHc500 to GHc30,000 with flexible terms of repayment. Call Essel on 05025****/055822**** for assistance.
"Dear CAGD Staff, IZWE Loans is giving you offer to pick our new loan or top up instantly on reduced rate of 2.1% per month. Call Courage on 020378***** now."
"Dear CAGD Staff, IZWE Loans is giving offer to pick our new or top up instantly on reduced rae of 2.1 per month. Call Mavis on 024472***** now."
Teachers Fund has now reduce the interest rate to 2.2%. Call MANAGER SAMMY of Teachers Fund Financial Service on 024275**** for your instant loan
"LEGACY CAPITAL has done it again, Get 50,000 or top up instantly from our loan product at a reduced rate of 24%. Call Gina on 02484*****/02653****."
"we can give you a LOAN up to GHS50,000 INSTANTLY with low interest and flexible repayment terms.CALL MR.HEAVEN ON 05085*****."
"(LEGACY CAPITAL). Get a quick loanfrom gh100 up to gh60,000 from a very new company LEGACY CAPITAL at an affordable rate. Call Mad. Augustina on 024721***
As a Govt worker we offer fast cash at the lowest rate from 500-100,000 gh? call or whatup officer Godsway on 05053**** or 027615**** for details
Magnet Loans now offers loans to all govt. workers at a low rate of 2%. You can access GHS 500-GHS 50,000.00 in less than 30 minutes. Kindly Call 024230****.
The above and many more are messages sent to government workers, disturbing their peace and breaking their privacy.
So government workers information can no more be protected?
Where is the confidentiality?
Where lies the integrity of CAGD?
where is the value for people CADG is talking about?
This Is a gross disrespect to the government workers.
It must stop now before strangers use our contacts to trace us for worst things.
CAGD claim it is not their fault, but also the telcos. Really?
Did the telcos employ me?
How did the telcos know I am a government worker?
I have been whispered to that the information (contact numbers) comes from you, the CAGD, EC, before SIC access them, so as other companies. Well let me treat this as an assertion.
But CAGD has no reason to deny this assertion, because they have information on all government workers. This action is so criminal and the Boss of CAGD and other authorities must be on their feet to curb this awful situation.
*Lastly, but most importantly...*
Where is the transparency, openness and honesty the CAGD aspire to act with?
When you effect illegal or unlawful deductions?
Where in the act /functions is CAGD mandated to even deduct dues or effect dues increment from employees' pea nut monthly salary without their approval or consent, and pay to some groups or associations?
Do some officers at CAGD have interest or share in such illegal deductions?
It is very interesting that an officer from CAGD says they deduct automatically for associations without consent of government workers so far as you belong to a group. What evidence does the CAGD have to confirm membership of group before the deductions?
Typical example is how the CAGD effected deductions for the National Association Of Registered Midwives of Ghana, without the consent of some midwives. Same also occurred in favour of Ghana Registered Nurses and Midwives Association, until nationwide membership registration was done. I believe so many government employees have witnessed these. Pure illegalities everywhere, because CAGD is abusing it's power and everyone seems to be silent on these illegalities. Where lies our freedom of association?
When an association wants to increase dues deduction from 1.5% to 2% of basic salary of its members, without them meeting their constitutional requirement of 2/3rds, how one earth should CAGD effect such deduction increment when you claim you have constitutions of all the associations ?
All because of corruption, thievery and bribery, so many evil things are happening at the blind side of the government workers who are paid through CAGD. These evil doings must end in 2018.
President Nana Addo, Finance Minister, Minister For Employment and Labour, Hon Members of Parliament, both majority and minority, National Labor Commission, the politicians, please these issues must be part of your priorities. The CAGD system has been abused so far long and it is high time the officers in charge are sanctioned.
Ghana and its system must work.
Source: Nhyira Akuamoah Boateng