Kufuor inaugurates Aowin-Suaman District Office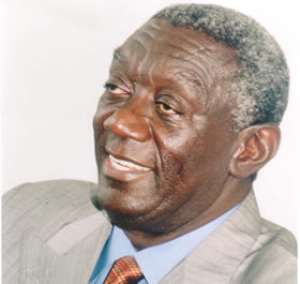 Enchi (W/R0, Aug. 17, GNA - President John Agyekum Kufuor on Tuesday inaugurated the 2.9 billion cedis three-story office building for the Aowin Suaman District Assembly at Enchi.
The inauguration forms part of his four-day tour of the Western Region.
It was funded from the District Assemblies' Common Fund. At a durbar of the chiefs and people, President Kufuor said contractors working on the Enchi town roads would have their contracts terminated if they flouted an ultimatum given them.
He said the Enchi Government Hospital generator project, had been awarded on contract and work would begin soon.
"When the generator and electricity supply becomes functional, the newly constructed mortuary will work to its maximum," he said. President Kufuor asked the Regional Cocoa Farmers Housing Scheme Committee to ensure that at least a house each was built in each cocoa district, to ease tension, create peace and goodwill among cocoa farmers.
He urged the chiefs and people to forgive any error that any of his Ministers might have caused them.