Prez Kufuor Should Be Impeached ... -Smith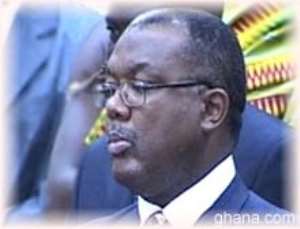 ...For Bringing Disgrace To The Presidency - Victor Smith As the furor surrounding the "Hotel Kufuor Saga" gets to the head with the woman at the centre of the saga, Miss Gizelle Yajzi, reiterating that she is due in the country with the twins she had with President Kufuor on Thursday, August 18, 2005, the Special Aide to former President Rawlings, Mr. Victor Smith, has called on the country,to invoke Article 69 of the country's constitution to impeach President Kufuor for bringing shame and disgrace to the presidency. Ms Yajzi has indicated in a radio interview that she is coming into the country with the so called twins she had with President Kufuor in the course of her role as an advisor to Finance Ministry to testify before the Commission for Human Rights and Administrative Justice (CHRAJ) preliminary investigative body.
Mr. Victor Smith in an interview with stated that he has course to believe in the allegations being made by Miss Giselle Yajzi in view of the fact that President Kufuor has not come to respond definitely to the allegations of sexual affair with Miss Yajzi.
Mr. Victor Smith added that he would be giving Ms Gizelle Yajzi a rousing welcome for her bravery in exposing the moral turpitude of President Kufuor.