Reojoinder: NPP Germany Elects Rev Alex Acheampong As Chairman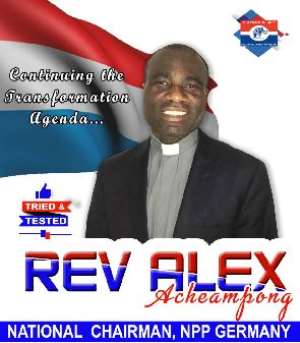 Our attention has been drawn to a news item which appeared on Ghanaweb and other media outlets claiming Rev Alex Acheampong has been re-elected Chairman of NPP-Germany to lead the party for the next four years. NPP Germany wishes to state categorically that the statement is totally false, misleading and a desperate but futile attempt to misinform the general public as to the outcome of the elections held on Saturday March 17 2018 in Dusseldorf. As responsible political party, it is important to set the records straight so that fiction does not become fact.
In this respect NPP Germany wishes to put on record that the elections were duly held in compliance with the directives from the National Headquarters in Accra. At the close of voting, ballots cast for all the other contestants except that of the Chairperson position were dully counted in the presence of their respective representatives who accepted the outcome.
It was detected during the counting of ballots cast for the chairmanship position that OVERVOTING and other substantial electoral irregularities and malpractices including impersonation, proxy voting and multiple voting, had occurred Consequently, the Election Committee in its wisdom decided to withhold the results for the Chairmanship position until the anomalies and irregularities that occurred have been amicably resolved.
As a result, the Election Committee went ahead to Swear in all the other officers who were dully elected EXCEPT Rev Alex Acheampong
It is important to emphasise that the Election Committee gave a deadline of one week within which it would either make a declaration of the results or call for a rerun for the chairmanship position. It therefore, comes a surprise that Rev Alex Acheampong is parading himself as having been re-elected although the Election Committee is yet to make a final determination on the matter. Perhaps, Rev. Alex Acheampong must be reminded that the New Patriotic Party is founded on the rule of law, due process and respect for proper procedure.
As such people who aspire to lead this party must not only respect this basic democratic principles but must be seen to be doing so. Finally, NPP-Germany wants to reiterate that Rev. Alex Acheampong has NOT been re-elected Chairman of NPP-Germany.
We therefore entreat the general public to ignore such claims and treat them with the contempt they deserve.
Sign Dr Kwaku Anane-Gyinde
Branch Secretary
NPP-Germany