Digital Entrepreneurship is the right skills for the Ghanaian youth -Kaunda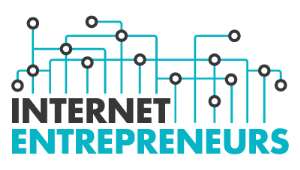 The rise of the internet and mobile has led to significant changes in the business world. Nearly half of the world has access to internet connection today. In 1995, it was less than 1%. [www.internetlivestats.com]
The average person now spends more time online than on TV and all other media combined. [Branding Bricks, 2017]
Currently, over 70% of the world youth are online [ITU Facts & Figures, 2017]. On average, we spend over 5,700 minutes per month—that's over 90 hours. Almost 4 days! Four-fifth of that time spent online is on social media sites [Google Digital Garage, 2018].
That means we are spending about 80% of our online time socializing and sharing. None of which brings money to the table.
This trend in Internet usage is not different in Ghana. The graph below shows that.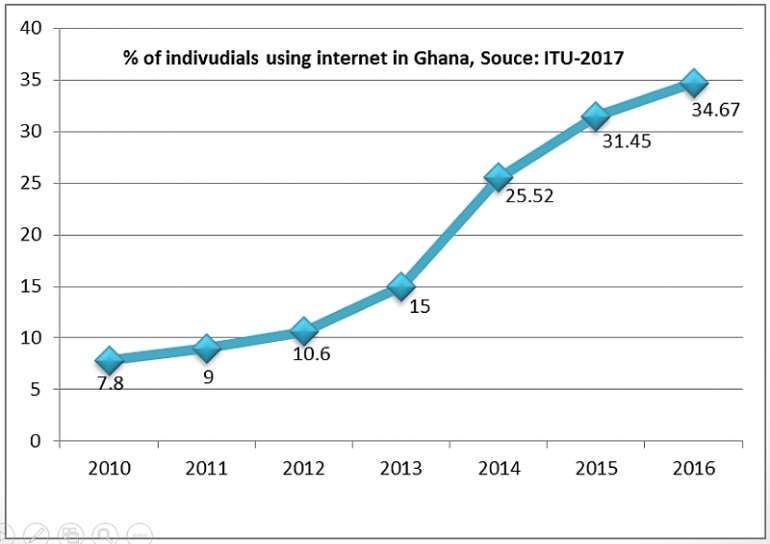 On the same Internet we find ourselves socializing, a lot is happening.
In 2016, an estimated 1.61 billion people worldwide purchase goods online which amounted to GHS 8.6 trillion. Projections show a growth of up to GHS 18 trillion by 2020. –[statista.com]
The internet is really a big business platform that the youth can take advantage. The big challenge is the required Digital Skills. There is huge knowledge gap between what is needed to be successful on the internet and what most IT Training centers in Ghana teach.
This knowledge gad is what my series of post will be on right here Modern Ghana.
"IT'S DIGITIME FOR GHANA"- Vice President Dr. Mahamudu Bawumia.

Enough of the This-is-a-mouse Training
Who are my audience?
Anyone interested in starting Internet Business
Startups
Marketing Professionals
Sales Professionals
Entrepreneurs, Business Owners and Business Managers
Tertiary Students & Graduates
National Service Personnel
Digital Marketing Professionals
Social Media Administrators
Anyone interested in Additional Income Stream
Anyone looking to enrich their CV with a recognized IT Certificate
Anyone who have time to work from home
For marketing and sales professionals, no two ways about it. You must have these skills. From 2013, the top two skills marketing departments looked for are: SEO|SEM Marketing and Digital & Online Marketing [LinkedIn & Hubspot Survey, 2016].
For those already employed, this will help secure your job. The future is Digital and you can't afford to miss the boat.
For the youth, this is a great opportunity to enrich our CV or start our own business and run it successfully online.
What are the job prospects?
Entrepreneur or Technopreneur
Virtual Assistance
SEO|SEM Specialist
Digital Marketing Manager
Online Marketing Coordinator
Website Administrator
Social Media Analyst
Social Media Administrator
Digital Manager
Digital Marketing Trainer
Domain Name Broker
Prerequisite Knowledge
Anyone who is able to manage a Facebook Page should be very comfortable with this training.
KEY CONTENT

Internet & Website Overview

Search Engine Optimization (SEO)

Basic Internet Security

Search Engine Marketing (SEM)

Online & Cloud Business Tools

Social Media Marketing (SMM)

Digital Currency Trading

Email Marketing

Online Business Identity

Video Marketing

Content Curation & Creation

Web Analytics

Affiliate Marketing

Google Analytics

Network Marketing

Blogging

Virtual Assistance

Google AdWords | AdSense

Mobile Marketing

Microsoft AdCenter

Google Localization

Yahoo Search Marketing

Domain Name Trading

Internet Business Setup
Each topic above is enough to start a business with. Relax, get yourself a cup of coffie as I bring you a weekly post.
I welcome you to the Digital Entrepreneurship Seris as I welcome myself to Modern Ghana. Le'ts get modern through Modern Ghana Platform
If the news is too good that you can not waith, then join my Telegram Group via t.me/InternetBusiness. We learn it everyday. You can also chat me via telegram on 0234 80 90 10. I will add you to the group. You can also visit my personal website for other posts relating to the internet.
By the way, I'm Kaunda. I just love the Internet!!