Kufuor To Broadcast To Nation (1)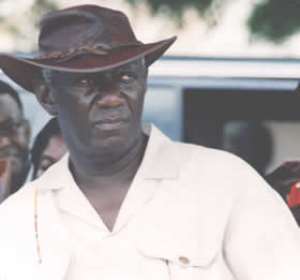 'Ghana Palaver' sources within the Presidency and the intelligence agencies have confirmed that President Kufuor will broadcast to the nation on radio and television either tomorrow (Wednesday) night or Thursday night.
This will be only the second time the President will be broadcasting to the nation since he assumed office in January 2001.
This first was on the occasion of the murder of Ya Na Yakubu Andani II and the daylight slaughter of 40 of his elders by elements suspected to be associated with the NPP in March 2002.
According to the sources, the national security and intelligence agencies have made a determination that so devastating will the evidence of Ms. Giselle Yazji be that once it is formally confirmed that she will be on British Airways Flight BA 6415 on her way to Ghana, the President will have to make a nationwide broadcast on radio and television admitting all the allegations connected with the "Hotel Kufuor" Affair and to be made by Ms. Yazji and to publicly apologise to the country, and to beg Ghanaians to forgive him.
In particular, President Kufuor is to admit to the following matters in the broadcast:
· Ms. Giselle Yazji was appointed the Economic Adviser to the NPP Government;
· He and Ms. Giselle Yazji had an affair;
· He and Ms. Giselle Yazji have twin boys named John Kufuor and Philip Kufuor;
· He instructed Ms. Giselle Yazji to purchase "Hotel Kufuor" for him;
· He owns "Hotel Kufuor"; his son Chie John Addo Kufuor is only a front for him;
· A proposal for a US$1 million loan facility for "Hotel Kufuor" has been made, appraised and approved by the ECOWAS Regional Investment Bank (ERIB).
According to our information, President Kufuor will cut short his tour of the Western Region and return to Accra to make the broadcast. He will not be returning to the Western Region to complete his tour.
Our sources are certain that an intelligence analysis made of the President's situation paint him as very vulnerable, and compare him to the situation US President Richard Nixon found himself at the height of the "Watergate" crisis and Bill Clinton at the height of the "Monica Lewinsky" Affair.
In both situations, each President made a nationwide broadcast, making a clean breast of issues. President Nixon did not survive the crisis and was forced to resign.
President Clinton survived and served out his term but will Prsident Kufuor survive?