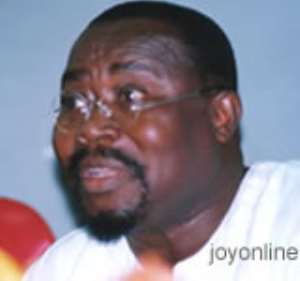 A leading member of the New Patriotic Party, Dr Nyaho Nyaho Tamakloe has sent his party to the cleaners, describing its members as lacking the fight back spirit when they were under extreme provocation.
Dr Nyaho-Tamakloe generally regarded as an NPP firebrand told the Daily Guide, a private daily newspaper, that said his colleagues seem to have misplaced the balls and guts with which they fought hard to take over the reins of administration of the country and are dizzying under a spate of lies being spewed against President Kufuor.
Nyaho, the immediate past chairman of the Ghana Football Association (GFA) said he was already elected himself to be a polling agent in the upcoming August 30 bye-election, at Odododiodio in Accra.
He quoted China's former premier and leader of communist party, Chairman Mao Zedung who stated "There will be freedom for all, except for enemies of freedom" to buttress his point.
He said he has been following the "Hotel Kufuor" saga and has listened to all parties who have spoken including president Kufuor and heard the effusions of an American-Iraqi woman named Gizelle Yajzi.
He said he has also been monitoring the conduct of two groups " friends of the truth" and "Enemies of lies" which have emerged over the hotel issue and wondered what was happening in the country.
" What are they doing these for? a man who wants to come back to power by overturning the constitution through any possible means", he asked.
Dr Nyaho-Tamakloe described the woman as a confused person and they will not allow her to come and create confusion in the country.
"We don't want such a confused woman to create confusion in this peaceful country. If she has anything worth the value to offer she should hold her press conference at the Ghana International Press Centre, I am daring her to do so," he said.
The medical doctor explained that the current NDC induced political noise in the country; especially about the Gizelle cacophony is part of a grand design to destabilize the country.
He advised his party men and women to "raise up and gird their loins against an obvious onslaught which was being unleashed on them by an obvious desperate former president, who is still itching to take the seat back through any means,"
" Why are we cowering like the underdog in a boxing ring and playing the three monkeys? We can see, we cant hear, we cant smell, a glaring orchestration to overthrow this government before its end of term," Dr Nyaho Tamakloe said.
He advised the party to as a matter of urgency come out with a fitting reply to Prof Atta Mills press conference which he described as" rehashed Palaver stories, full of lies, contradictions and half -truths.