EDITORIAL: JAK, Open Your Eyes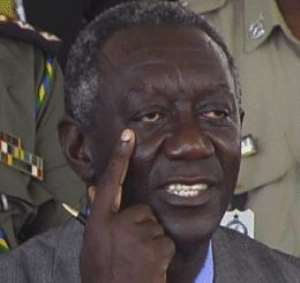 President John Agyekum Kufuor has been urged to be on the look out for any possible arm-twisting, potential for unnecessary pressures in the taking of decisions involving two major projects, the rehabilitation of the sports stadia for the CAN 2008 and the National Identification Project.
This was part of a letter sent on Friday for publication in The Daily Dispatch by a leading member of the ruling New Patriotic Party (NPP). At his request we have withheld his name (for now) but the details he has provided leaves no one in doubt that he is an inner core NPP member. "Our Dear President John Kufuor, I write on behalf of some committed members of our dear party, the New Patriotic Party (NPP). It is on the vexed issue of whether perceptions of corruption actually manifests in real practices. Whenever you in particular and your government in general have been taken to task for not doing enough to live up to your slogan of 'Zero Tolerance of Corruption' you have sounded defensive. An indicator used in the Transparency International's Corruption Perception Index is how much money foreign companies operating outside their home countries spend in 'under the table' payments to facilitate their business. This can relate to the award of contract(s); payment of work done, etc. Over a week ago, there have been reports doing the rounds about how billions of cedis were allegedly packed in boxes and sent to the houses of some people with close connections to certain leading members of government. Within the last few weeks, there have been credible reports of serious lobbying to influence independent decisions your government is likely to take on the rehabilitation of the sports stadia for CAN 2008 and the National Identification Project. On the rehabilitation of the stadia, there are reports that US$20million (¢180 billion) is available for lobbying the appropriate persons to let one company undertake all the work. Is it a case of 'putting all our eggs in one basket? How about the offer from the Chinese government? Two companies, Sagem and HP are reported to have been short-listed concerning the National Identification Project.