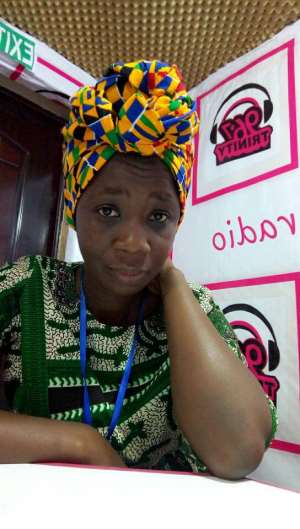 The integrity, humility and industry that secured her a spot in last year's Foklex Media's awards, are the same virtues which have found her name there once again.
Meet Naomi Afriyie, a radio presenter whose intelligence and confidence have been remarkable since she took that bold decision to step into Bogoso's Trinity FM as the radio's morning show host.
Every fan and listener of Miss Afriyie will testify of her beautiful personality and the adroitness with which she discharges her duty. It thus cannot be accidental that she has again found her name in the tall list of Foklex Media's personality of the year nominees.
Miss Naomi Afriyie does not allow her beautiful personality to interfere with her job and this can be said to be the major reason behind her peerless success since she accepted the challenge to be a media practitioner.
It's amazing how the morning show host converts criticisms into energies and uses them as her main strength to soldier on.
We, her die-hard fans, cannot find any better opportunity to reward her selflessness and dedication than a time like this.
To support us crown Miss Naomi Afriyie as Western Region's Radio Personality of the year, kindly text NAOMI AFRIYIE NYANOH, WESTERN REGION, to the WhatsApp number 0245379414. Alternatively, you may visit Foklex Media Production, Foklex Media Awards page and comment NAOMI AFRIYIE NYANOH, PERSONALITY OF THE YEAR, WESTERN REGION.