Essien join Chelsea for record fee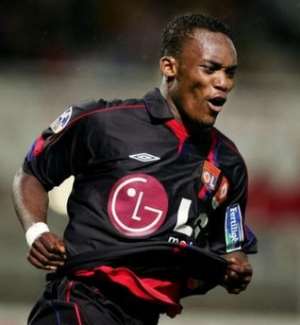 LYON, Aug 15 - Ghana midfielder Michael Essien is leaving Olympique Lyon to join Chelsea, the French champions confirmed on Monday. Essien will sign a five-year-contract with the English champions for a 38 million euro ($47.06 million) transfer fee, club official Bernard Lacombe told reporters. The fee for the 22-year-old is a record in transfers involving Ligue 1 players and a record for Chelsea. At 26 million pounds, it is also the third highest transfer fee involving an English club after Manchester United paid 29 million for Rio Ferdinand in 2002 and 28 million for Juan Sebastian Veron in 2001. Ivory Coast striker Didier Drogba set the previous French record when he left Olympique Marseille for Chelsea for an estimated 37.5 million euros in July last year. Chelsea, Lacombe said, would pay cash next week. "Financially, it's an extraordinary operation," he said. "It's one third of our budget and it represents the entire budget of some Ligue 1 clubs." A Lyon club official said Essien's medical at Chelsea was expected to take place on Tuesday morning. Essien's national team Ghana are scheduled to meet Senegal in a friendly international at the London ground of English third division club Brentford on Wednesday evening but it was not clear whether the midfielder would play.
ENGLAND DREAM Lyon resisted pressure from Chelsea for weeks. Essien had said he was desperate to join Chelsea and no longer wanted to play for Lyon. "For him it was not a question of money," Lacombe said. "It was his dream to play in England." The gifted Ghanaian has not played a competitive match for Lyon this season, with coach Gerard Houllier saying he could not select a player whose mind was not on the game. A powerful defensive midfielder, Essien won the Ligue 1 Player of the Year award last season. Houllier has said he regards him as being in the same league as Liverpool's Steven Gerrard and Chelsea's Frank Lampard. "It's sad to see him go, but for him it's extraordinary and we all wish him good luck," said Lyon defender Sylvain Monsoreau. Aulas and his players realise they are losing a special player whose role was decisive in Lyon's campaigns to the last two French titles.
"Lyon existed before Michael Essien and will exist after him but it's true that we're losing a fantastic player," said defender Anthony Reveillere.
"It's his choice to leave and you have to respect that."
Lyon, chasing an unprecedented fifth successive Ligue 1 title, will now concentrate on trying to persuade inspirational Brazil midfielder Juninho to extend his contract while looking for a top striker.
"We will do what we have to make him (Juninho) stay," said Aulas. "We need him.
"Contacts have been made but it will be difficult," Aulas said when asked about the prospect of a world-class forward joining Lyon to make up for Essien's departure.
Aulas previously said he was interested in England's Michael Owen, who is expected to leave Real Madrid, and Liverpool's Czech striker Milan Baros.