13 March 2018
|
Petitions
NDC Members Petition Party Over Pegging Of Youth Organiser Position At Age 40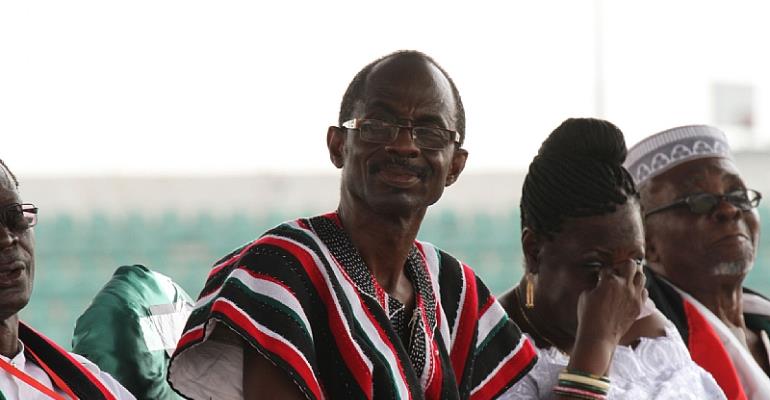 9TH MARCH, 2018
THE NATIONAL CHAIRMAN
NATIONAL DEMOCRATIC CONGRESS
NDC HEADQUARTERS
ADABRAKA, ACCRA
Dear Sir,
*PETITION AGAINST THE PEGGING OF THE YOUTH AGE LIMIT AT FORTY (40) YEARS FOR YOUTH ORGANIZER POSITIONS IN THE UPCOMING NDC CONGRESS.*
We the concerned youth of the NDC wish to appeal against the pegging of the age limit of the youth at forty years (40) for youth organizer positions but thirty five (35) instead. This is to help attract the youth, who form the larger percentage of the population and who are also actively energetic, exuberant and forceful with courage and fortitude when the going really gets tough for the party as they are always needed in many unthinkable ways to help bring back the party to power in 2020 and beyond.
The teeming youth of the NDC has made the party what it is today and they should be acknowledged and allowed to contest for positions that they can perform better. For now, forty (40) years and above should be reserved for those who are interested in becoming presidents of our dear nation. Even that should be looked at again at the national level because elsewhere countries have presidents younger than forty years and they are performing creditably.
We therefore wish to categorically kick against the party's directive to limit the age of all youth organizer contestants to just 40 years. We feel this is not in good taste and a disservice to the teeming youth of the party. In order to achieve a true and effective reorganization, a second look is needed to be taken on this policy.
"Youth is the time of life when one is young, and often means the time between childhood and adulthood. "The UN, for statistical consistency across regions, defines "Youth as those persons between the ages of 15 and 24 years" and without prejudice to other member states, the age end of youth in the UK is thirty-five years (35) years according to survey.
The African Union's Youth Charter to which Ghana is a signatory and in which we fall into when its candidate is the president of Ghana, categorically defines youth using the age bracket of 15-35 years across Africa. Youth in Nigeria includes citizens of the Federal Republic of Nigeria aged 18-35 years, the same as Kenya. Meanwhile sister states like Burkina Faso, Zimbabwe, Liberia and South Africa limit their youth age bracket to between 14/15 years to 35 years.
Similarly, in Ghana, Section 28 of the National Youth Authority Act, 2016(Act 939) specifically spells out who qualifies to be a youth by redefining who is a youth under the laws of Ghana as a person between the ages of 15 to 35.
Statistically, 57% of Ghana's population are youth, aged between 15 and 35 years. As a national party, it is strange that the age limit for the youth of the party would be fixed contrary to statute; the National Youth Authority Act, 2016 (Act 939) specifically Section 28. It is trite law that any decision by an administrative body or any authority or any court contrary to statute is void; not even a decision of the Supreme Court. The purported age limit of 40 years proposed by the NDC to the extent that is inconsistent with the definition of youth in the National Youth Authority Act, is illegal, null and void and of no consequences.
We want to believe at this stage that the directive is an oversight and share inadvertence that was not intended to breach the laws of the land we seek to rule. A reversal of this decision therefore is tenable and necessary before we become a mockery of our opponents.There is no rationale for this move unless it is to serve some obscure interests.
We need to make the party attractive to the youth. We as a party must subscribe to the generally accepted categorisations of who qualifies to be a youth. The Kwesi Botchwey's report according to intelligence we picked recommended an age limit on the youth wing. It does not say we need a redefinition of youth. It simply means we should refer to the laws of Ghana and act accordingly. We therefore simply have to refer to the national youth authority Act, 2016 (Act 939) of the country which states the youth are those between the ages 15-35. There should be an end to the excesses of this lawlessness. The Kwesi Botchwey report is not a statute and must not supercede a substantive statute.
Besides we need a youth revolution in this country, the only way we can properly reorganize and easily capture power in 2020. We must start implementing policies that are attractive to the youth now. The obvious exclusion by the forty (40) year-limit will jeopardize the reorganization we are engaging in.
At this juncture, it is obvious our party has departed from the generally accepted principles.This is a clear breach and should be remedied. A legal action against the party is bound to happen should FEC, NEC and the Council of Elders refuse to operate in accordance with the dictates of our constitution as evidenced in this directive under consideration. We are determined to seek an interpretation of the age limit of a "youth" in a competent court of jurisdiction should our lawful plea to your outfit fails. Perhaps we will exhaust our internal structures first, of which we are currently pursuing.
We are by this petition through a clarion call therefore requesting the party structure to reduce the proposed age limit of those eligible to contest Youth Organizer positions in our upcoming Congresses from forty (40) years to thirty-five (35) years in accordance with the dictates of our constitution and international standards.
It is our hope that this petition finds the prominence and urgency it deserves in the scheme of affairs at this critical time.
We highly count on your immediate attention to this petition to avoid potential legal tussles.
Thank you.
Yours faithfully,
Signed:
Ndebugri John
(024-2040519)
Mahama Samuel
(024-2040519)
Cc:
COUNCIL OF ELDERS
H.E. JERRY JOHN RAWLINGS, FOUNDER, NDC
H.E. JOHN DRAMANI MAHAMA, EX-PRESIDENT, REPUBLIC OF GHANA
GENERAL SECRETARY, NDC
MINORITY LEADER, PARLIAMENT OF GHANA
HON. JULIUS DEBRAH, FORMER CHIEF OF STAFF
NATIONAL ORGANIZER, NDC
NATIONAL YOUTH ORGANIZER, NDC
NATIONAL WOMEN'S ORGANIZER, NDC
Catch up on the latest news videos from Modern Ghana.
Advertized