March 13, 2018
|
Releases Press Release
Prisons Service Extends Date Of Recriutment Application Exercise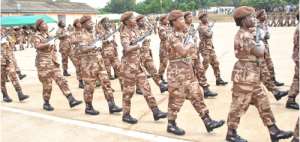 The Prisons Administration wishes to inform the general public that it has extended the date for its recruitment application exercise. The date for sale of E-Vouchers (GHȻ50.00) at Commercial Bank branches nationwide has been extended from 9th March to Friday, 23rd March, 2018, and the online ( www.prisons.gov.gh.services ) application process has also been extended from 12th March to Tuesday, 27th March, 2018.
The move is to give applicants enough time to fill and submit their applications online.
The Service once again wishes to remind the public that it is an equal opportunity employer; hence applicants MUST refuse offers from Connection Men or Middlemen. Do not pay money to anyone.
Thank you
SIGNED: SUPT. VITALIS AIYEH
CHIEF PUBLIC RELATIONS OFFICER