March 13, 2018
|
Feature Article
Arrest John Dramani Mahama Over the One Billion Dollar Road Scam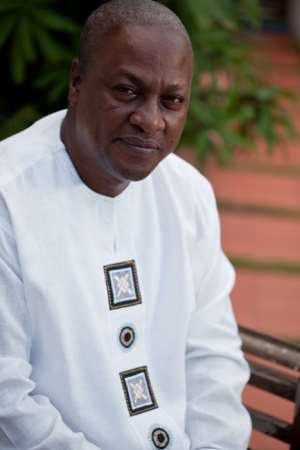 Barely a few months to the decisive general elections of 2016 that saw the disgraceful crush of the machinations of an insidious democratic dictator, I prefer to call malicious despot, John Dramani Mahama sought to dampen the gravity of his shame by embellishing his failure. I liken his attitude at the time to the ugly woman who wants to be Cinderella by all means. The fake beauty is soon uncovered when she removes her fake hips, fake eyelashes; fake boobs, and fake…..Oh well, the fake vehicle begins to fall off, piece by piece!
He announced the resurfacing of Accra roads at a colossal amount of one billion US Dollars. I am sure you do remember that gaffe. For some reason, I have formed an opinion that he had seen defeat galloping at him, so he decided to steal that amount of money and distribute to family and friends. I repeat, that is the opinion that I have formed!
Anyway, since it has gone into the books, we must scrutinise this fraudulent deal through the lens of the Special Prosecutor. Mr Martin Amindu, being "citizen vigilante baako p3", needs to dig into this seemingly gross financial loss to the State that has straddled our government today. Indeed, if we take into account the road resurfacing as that stretch along the Zimbabwe Embassy at Airport Residential area or the few dashes of same at Achimota that soon washed away, it becomes noticeable that this one billion US Dollar deal was a scam; A PURE SCAM!
Why wouldn't it be seen as a scam when the resurfacing was shambolic and unprofessional? Spraying liquid bitumen on very uneven roads and spreading chippings some of which are boulder sizes is hardly the road resurfacing we expect; road de-surfacing is more like it! Roads to undergo maintenance are properly prepared before, but not in John Mahama's books. Those contractors who engaged in cheap national molestation are treasonable thieves!!!
I am appealing to the Special Prosecutor, to push for the arrest and trial of John Mahama for creating such a financial albatross around the neck of Nana Akufo-Addo's government. But, that alone would not be enough. Alhaji Inusah Fusseini must be arrested too. He must tell the nation where the billions of Ghana Cedis dissipated to; those billions that were earmarked to pay for roads which were not done! They must be made to account for the fiscal holocaust exacted on poor Ghanaians who were robbed to fatten the bellies of NDC's perceived thieves like Ibrahim Mahama, Joseph Siaw Agyepong, Woyome, Isofotone bandits, Sada criminals, Gyeeda scoundrels, Cocobod gluttons, and others. The contractors who connived with John Mahama and his gangsters must also be arrested for demanding from government payments against sham invoices and fraudulent contracts. They must all be brought to book.
But first of all, rope John Mahama in. Once the main link to the chain is hooked, the rest will fall into place; their rightful place at Nsawam Prisons with Abuga Pele and his criminal accomplice…what was his name again?
By Fadi Dabbousi