Catholic Primate visits Winneba Parish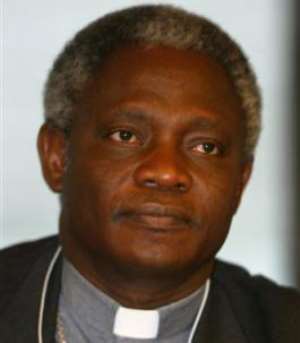 Winneba, Aug 15, GNA - His Eminence Peter Cardinal Appiah-Turkson, Primate of the Catholic Church and Archbishop of Cape Coast, has cautioned the youth against the effects of narcotic drugs on their lives and the future of the nation.
He also cautioned young girls against teenage pregnancies, which he said could destroy their future and eventually place them in an "awkward situation in life".
Cardinal Appiah-Turkson was addressing about 500 young people at separate Church service at Effutu-Gyahadze and Winneba on Saturday and Sunday, respectively, to round off his three-day visit to the Parish. He charged youth leaders, organised groups and parents in the Church to intensify their training programmes aimed at instilling good morals to save the youth from evil deeds.
Cardinal Appiah-Turkson advised them to take their studies seriously to enable them to acquire knowledge and skills, which could make them marketable in future and save them from becoming a liability to their parents and the nation.
He expressed concern about the practice whereby people used officials in high positions to lobby for their children to gain admission into institutions.
"I am rather prepared to offer financial and other assistance to support further training of students who are brilliant but come from poor families," he said.
Peter Cardinal Appiah Turkson urged Catholics throughout the country to play an active part in communal duties to enhance the development of their communities.
He said that apart from helping to improve the living conditions of their towns and villages, their active participation in communal activities would go a long way to create an excellent image for the Church.
Cardinal Appiah-Turkson praised the Reverend Fathers Robert Oduro and K. Sam and leaders of the various organised groups in the Parish for their hard work, which had helped in improving education and other aspects of administration in the Church and advised them to continue their good work.
Cardinal Appiah-Turkson confirmed 120 people from Gomoa Potsin, Gomoa-Onyadze, Asebu, Okyereko, Kweikrom, Winneba, Effutu-Essuekyir, Gyahadze and the Low-Cost Residential Area at Winneba into the Church during the visit.
Father Oduro, the Parish Priest, on behalf of the members expressed their appreciation to the Primate for the visit and promised to work harder to transform the spiritual, moral and social lives of the Parishioners.
Peter Cardinal Appiah-Turkson prayed for peace, unity and stability as well as the economic progress of the nation.