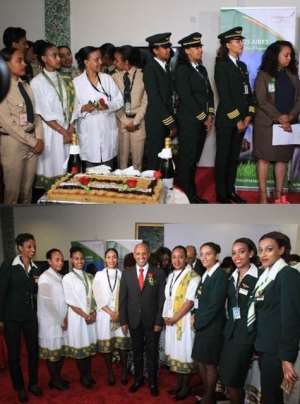 Ethiopian Airlines has marked the International Women's Day with an all women crew operated flight to Buenos Aires, Argentina with the state-of-the-art and comfortable B787 aircraft.
A statement issued in Accra by the Airline and copied to the Ghana News Agency quoted Mr Tewolde GebreMariam, Ethiopian Group CEO as saying 'Today we are only repeating what we have been doing in heralding to the world that women can do whatever men can'.
He said this all women functioned flight was going to inspire young girls in schools in Africa and in the world telling them that they have a bright future and hope that they could be pilots, CEO's, technicians, engineers and whatever they like.
'The opportunity is there for them and we will help and support them,' he said.
He said the flag carrier linked Buenos Aires, the world's capital of Tango, home of centurion old buildings and a vibrant cultural scene, with Africa while observing the International Women's Day with various proceedings.
Mr GebreMariam said, 'Today we are connecting what seemingly look like faraway places: Africa and Argentina'.
He said 'it is the Airlines' firm belief that Argentina would be successful and the move was as per the vision 2025.'
'The flight will generate tourism, people to people connections, trade and investment. Ethiopian Airlines is a global integrator connecting these countries not only with all countries in Africa but also in Asia, a very good market in China, Japan, Korea, Israel, Middle East, Lebanon and so on,' he added.
Mr Gustavo Teodoro Grippo, Argentinian Ambassador to Ethiopia, said, 'Ethiopian Airlines debut flight to Buenos Aires has developed a platform to develop partnership between Argentina and Ethiopia on tourism, culture, business, economic growth and sport among other sectors'.
He said this flight builds a longer bridge between Africa and the Latin America that allows the two countries to strengthen not only bilateral relations but also with the two continental regions.
Dr Aklilu Hailemichael, State Minister for Foreign Affairs, said 'The continued growth of Ethiopian Airlines led to the flourishing of bilateral and multilateral diplomatic relations of the country in the global arena.
'The impressive achievements of the airline are part of the many successful multifaceted development plans aimed at realizing the national vision of becoming a middle income country by 2025,' he added.
GNA