Oil-For-Food Scandal: Ghanaian Ambassador to Morocco Fingered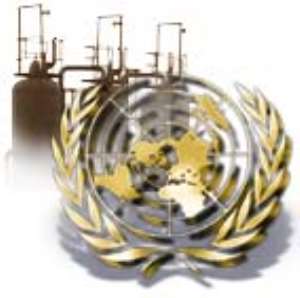 .. He's Kofi Annan's Brother THE official investigation into corruption in the £20 billion United Nations oil for food programme is now looking at the brother of Kofi Annan, the UN secretary-general. Kobina Annan, the Ghanaian ambassador to Morocco, is said by investigators to be "connected" to an African businessman at the centre of the scandal. The oil for food programme was set up by the UN in 1995 to provide humanitarian supplies to Iraq, which was at the time prevented from trading normally with the rest of the world because of sanctions. However, Saddam Hussein subverted the programme by taking kickbacks from companies involved and giving cut-price oil vouchers to influential individuals around the world. Kobina is the second member of Annan's family to be drawn into the scandal, which has led to the resignation of several senior UN officials. The secretary-general has so far escaped censure, but the final verdict on his conduct will not be delivered by investigators until the autumn. Kojo Annan, the secretary-general's son who was involved with several companies seeking to profit from the programme, has been criticised and remains under investigation. Inquiries into Kobina are at an early stage and he has not been interviewed. However, investigators are understood to suspect that Michael Wilson, an African businessman, and Kobina had a business relationship at the time of the scandal. A source close to the investigation said: "We believe Kobina Annan may be involved with Michael Wilson and Kojo Annan. We know there is a connection between Kobina and Wilson." The oil for food programme was the biggest humanitarian scheme undertaken. However, since the fall of Saddam allegations of corruption have surfaced forcing the UN to set up a commission, headed by Paul Volcker, the former head of the American Federal Reserve, to investigate it.
Saddam is alleged to have used valuable oil allocations to influence key figures around the world. Bribes were also demanded in return for oil, which were paid into a network of secret bank accounts. Volcker has already uncovered a web of corruption at the UN, which appears to have allowed the scheme's abuse to continue unchecked. Last week, in an interim report, he said Benon Sevan, the head of the programme, and Alexander Yakovlev, another senior UN official, had taken bribes. Sevan has left the United Nations in disgrace and Yakovlev was arrested in New York last week in relation to the charges.
Wilson, a long-standing family friend of the Annans, is now fast becoming a focus of Volcker's commission and some believe crucial evidence surrounding his business activities may prove fatal to the secretary-general's career. Wilson's role in the oil for food furore dates back to September 1995, when Kofi Annan spoke about the possibility of Kojo working for Wilson after leaving university in Britain. Kojo was then employed as a graduate trainee at Cotecna, of which Wilson was a vice-president. The company monitors shipments of imported and exported goods around the world. In 1998, the year after Kofi became secretary-general, an inspection contract to monitor oil exports leaving Iraq was won by Cotecna.
Initially it was claimed Kojo had no links with the company when the contract was awarded as he had left earlier in the year. However, it later transpired that he had continued to receive payments from Cotecna until 2004. The commission then unearthed e-mails sent by Wilson which refer to "brief discussions with the SG (secretary-general) and his entourage" at a UN event in Paris shortly before the contract was awarded. Wilson reported "we could count on their support" — a claim denied by Kofi. Kojo's conduct has been criticised by investigators but no formal charges have been brought. Wilson is in a similar position, although the investigation into both men continues. Now investigators say a new link has been established between Wilson and Kobina the secretary-general's brother. It is not known what this connection is. Kobina's son, Kobina Jr, who lives in America, also has connections to the United Nations. Last year he worked for Ruder Finn, a New York public relations company that boasts a number of UN contracts. The company is run by David Finn, a friend of Kofi Annan. According to American reports, Ruder Finn employed Kobina Jr on a short-term contract after Kofi asked Finn if he could offer some "guidance" to his nephew. At the same time the company was hired by the UN development programme to revamp its communications office.
A statement issued by the company said: "Kobina Annan was interested in public relations and applied for Ruder Finn's internship programme and was admitted. Ruder Finn was not awarded any UN contract because of Kobina's employment."
Kobina senior was travelling last week and unavailable for comment. A spokesman for Kofi Annan declined to comment.