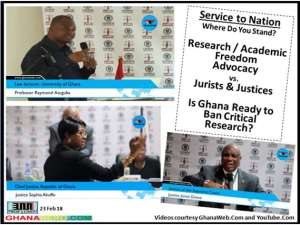 "...On a daily basis, the majority of children, women, men, communities, companies, and institutions in some African countries are denied access to justice, social services, and other essential functions of government. Often these citizens and organizations have no one to whom they can turn. Whenever justice is inaccessible, the result is injustice...With regards to socioeconomic rights, the basic dilemma facing its justiciability stems from two problems; a problem of measurement...", (Late Justice Professor Modibo Ocran, The University of Akron Law School / Supreme Court of Ghana).
In reverence, awe, and humility, we dedicate Part 2 of our essay to Justice Professor Modibo Ocran (RIP).
Dear reader, we are no lawyers and do not seek to practice law in any jurisdiction.
We submit, nonetheless, that just like the 2007 Anane case (Supreme Court in Republic v. Fast Track High Court,Accra, Exparte Commission of Human Rights and Administrative Justice, the recent (2016) Evans Nimako vs. Electoral Commission, both decided by former Chief Justice Georgina Wood are of the "...justice...essential functions of government...(and)...socioeconomic rights...", of which Justice Professor Ocran addresses in his paper on "justiciability".
The latter was a failure of "justiciability" of which Justice Ocran wrote, and the former was quite astoundingly, a failure of "legal reasoning" of which Bemba wrote in 2007. In effect, potentially, there are other factors that may explain the "variance", factors that are typically uncovered only through robust research methodologies and analyses of the kind we ought to expect of intellectuals funded with state monies and other public resources.
But, Part 2 of our paper is not exactly about cases decided by any jurist appointed by a politician of whatever ideological persuasion, assuming they had one they could clearly articulate to a roomful of university students in Ghana or America.
Dear reader, we are taking up Part 2 of this paper about the influence of politics in judicial decision-making in Ghana in a week where a Ghanaian opinion leader of of the Christian faith, Pastor Mensah Otabil, has opined that he'd rather watch animals in documentaries and movies imported from other countries (because animals teach him how to survive), than watch locally produced television news and other content. The reader will recall that the admonition of Chief Justice (CJ) Sophia Akuffo at GIMPA was that Ghanaian scholars and intellectuals ought not utilize research methodologies and frameworks that are "American", or otherwise imported, because of the inferred brutal acts of one man, Jerry Rawlings, the same individual who appointed her to the Supreme Court in 1995.
As the transcripts to the Professor Raymond Atuguba presentation attest in our Part 1, CJ Akuffo was actually arguing for non-importation and non-attribution of research from the United States because Ghanaians are not "used to that", to wit:
"....They [Americans] are used to that, we are not...".
From where we sit, as opinion leaders occupying different positions in the political and social spheres in Ghana, the contradiction between Pastor Otabil's "animal movies" and CJ Sophia Akuffo's "imported...American type of research..." is astounding.
However, given our predominant interest in matters purely of public concern that engender effective, egalitarian, governance without regard to personal attributes, we do not care a pesewa for Pastor Otabil and the manner in which members of his congregation and other individuals fund his lifestyle and business with their personal wealth and resources that then allow Pastor Otabil to "survive" using "survival" lessons learned from the "animal kingdom".
On the other hand, in the case of the CJ Sophia Akuffo, with all due respect, the contraction it is particularly galling: we know now that Ms. Akuffo in fact "...holds a Masters degree in Law (LLM) from the Havard University in the United States of America..".
Harvard University, Cambridge, MA, USA, is actually a liberal educational institution, if ever there was one, of note:
"... educate the citizens and citizen-leaders for our society....through... commitment to the transformative power of a liberal arts and sciences education...".
But, "Havard University"? Does CJ Akuffo's "cautionary justice-of-karma" explain fully why the Government of Ghana, on its own public website and portal, could not properly spell "Harvard", and have not bothered to correct that error on their people-funded website 13 months, and counting.
"....They [Americans] are used to that, we are not...".
But, to get back to the chase, we must state here that we are no lawyers, nor have we ever been students at Harvard University.
However, we are very familiar with some of the work of Justice of the Supreme Court of Ghana, Professor Modibo Ocran (May He Rest In Peace), previously of The University of Akron Law School, Akron, Ohio, USA, before and after he became a justice of the Supreme Court of Ghana.
Our point is, having attended institutions of higher learning in the United States and having taught is some of them and worked in some of the best performing institutions over the years, we can confidently say that CJ Akuffo "cautionary proposal" to be strictly "inward-looking is totally at odds with what they teach students and future leaders at Harvard, and at other institutions of higher learning in the United States, unless, perhaps, they are schools for the study of the Bible.
As a matter of fact, it is very difficult for us to imagine a situation where Justice Professor Modibo Ocran of blessed memory would have argued, and/or, stomached CJ Akuffo's "cautionary proposal" for Ghanaian scholars and intellectuals.
On the contrary, the study and applications of lessons and methodologies from other places, "outward", are precisely what Ms. Akuffo ought to expect of institutions such as the University of Ghana, GIMPA, KNUST, etc., of students, and of their leaders and stewards such as Professor Raymond Atuguba.
MEMO: We submit today that Ms. Sophia Akuffo most likely was admitted to Harvard University because of those idealistic interests -- so a community like Harvard could learn lessons from that other place (Ghana), to better the world, shouting to the world from Harvard University, Cambridge, USA.
If that were not the case, Ms. Akuffo could share with Ghanaians information about the personal letter she herself wrote and sent to Harvard University as part of the requirements for admission to the Law School at Harvard University.
Here is the important question: In that law school personal essay, did Ms. Sophia Akuffo communicate to the Harvard law admission faculty that because she was from Ghana, with respect to basic research, applied research, jurisprudence, and fundamental requirements for critical and analytic thought, she most likely would never be "...used to that...(which)...They [Americans] are used...", and practice in America?
So, please tell 'em what you wrote and sent to Harvard Law School, Chief Justice Sophia Akuffo!
For us, this is no trivial matter. We are fairly certain that Harvard Law most likely would not have accepted Ms. Akuffo into the LLM program if that was actually her attitude to education, work, and research, that it would be the same in her professional practice after her education at Havard.
On another track, might it also be the case our future Chief Justice scuttled back to Ghana immediately after obtaining her LLM because there was a big title and position waiting for her so that she did not have experiential benefits of other kind, including cross-national and international work experience? We imagine some of those would include benefits of learning from some of the best practitioners of national and international law, administration of justice, and jurisprudence, etc. They have been, and are all scattered in the United States, from Boston (MA) to Washington (DC), to Los Angeles (CA), to Baltimore (MD), to Houston (TX), places where many lawyers, using research, have been at the fore front of important periods of progressivism, including abolition of slavery, suffrage for women, civil rights and citizenship for African-Americans, prohibition of cruel and unusual punishment, freedom of expression, equal pay for women, Miranda rights, etc.
Over generations, if every professional in government, every professional in a responsible position in the executive, in the legislator, and most of all, in the judiciary, etc., merely said our people "....are not used to that, we are not...used that...", how much progress in human development and social living writ large would we enjoy today from whatever corner of the world we may find ourselves?
Exactly what, how much, we must ask, would Chief Justice Sophia Akuffo and some of her colleagues at the Supreme Court of Ghana want us to study and measure as surrogates for human development and progress in governance and the laws, (i.e., the absence of violence, chaos, predation, and corrupt administration of justice)?
Why would any society have allowed any common man or woman to go to school, to train as a lawyer, to practice the laws, and be appointed a judge and executive of judges, if they remained "inward-looking" for generations on end?
To the point, when Chief Justice Sophia Akuffo, herself "...condemned the state of Ghana's courts, saying they were unsuitable for delivering justice....'unsafe and unhygienic'...threatened to tarnish the image of the judiciary...", what measures did Chief Justice Sophia Akuffo employ?
What methodology informed her conclusions beyond anecdotes?
Why would all that be different from research into the influence of politics in administration of justice and the laws, the kind practiced by critical thinkers and researchers like Professor Raymond Atuguba, at the University of Ghana, Legon?
So it goes, Ghana! SOURCES & NOTES 1. Prof Lungu. Defensive CJ Sophia Akuffo et al have no case vs. Professor Atuguba of UG (Legon), (https://www.ghanaweb.com/GhanaHomePage/features/Defensive-CJ-Sophia-Akuffo-et-al-have-no-case-vs-Professor-Atuguba-of-UG-Legon-629300).
2. Ghanaweb. Chief Justice 'attacks' Professor Atuguba on research findings, (https://www.ghanaweb.com/GhanaHomePage/NewsArchive/Chief-Justice-attacks-Professor-Atuguba-on-research-findings-626708).
3. Justice Professor Modibo Ocran. Socioeconomic Rights In The African Context: Problems With Concept And Enforcement Lecture, (https://www.luc.edu/media/lucedu/law/students/publications/ilr/pdfs/ocran_rights.pdf).
4. Dussuru Bemba. How the Supreme Court re: akotoed the Anane Case, (https://www.ghanaweb.com/GhanaHomePage/NewsArchive/How-the-Supreme-Court-re-akotoed-the-Anane-Case-146325).
5. Civil Motion No. J8/108/2016. Abu Ramadan Plaintiffs/Applicants & Evans Nimako Vrs The Electoral Commission & The Attorney General, (https://ghalii.org/gh/judgment/Supreme%20Court/2016/10/ABU%20%20RAMADAN%20%26%20ANOR%20%20VRS.%20ELECTORAL%20COMMISSION%20%26%20ANOR.pdf).
6. Ghanaweb. I would rather watch animals than watch Ghanaian Television - Otabil, (https://www.ghanaweb.com/GhanaHomePage/NewsArchive/I-would-rather-watch-animals-than-watch-Ghanaian-Television-Otabil-631463).
7. Government of Ghana. Parliament Approves Justice Sophia Akuffo As New CJ, (http://www.ghana.gov.gh/index.php/media-center/news/3763-parliament-approves-justice-sophia-akuffo-as-new-cj).
8. Legalbrief.co.za. Ghana's Chief Justice aims to uplift tired courts - Legalbrief, (http://legalbrief.co.za/diary/legalbrief-today/story/ghanas-chief-justice-targets-tired-courts/pdf/).
9. YOUTUBE Videos, (https://www.youtube.com/watch?v=UkxDlue1Qq0).
VISIT WWW.GHANAHERO.COM/VISIONS, FOR MORE INFORMATION:
SUBJ: Defensive CJ Sophia Akuffo et al have no case vs. Professor Atuguba of UG (Legon), Part 2.
Support Fair-Trade Oil Share Ghana (FTOS-Gh) Campaign/Petition:
https://www.change.org/p/ghana-fair-trade-oil-share-psa-campaign-ftos-gh-psa/
Brought to you courtesy www.GhanaHero.com©9 March, 2018.
(Powered by: www.GhanaHero.Com).