Social Media Should Be Used To Improve Knowledge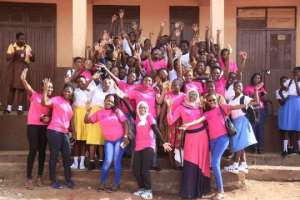 Ms Sadia Mohammed, the SRC Women's Commissioner of Ghana Institute of Management and Public Administration, (GIMPA) has urged school children to leverage the use of social media to improve on their knowledge.
She said social media was a good platform, when utilised well would impact positively one one's life; but it could also impact negatively when not used well.
Ms Mohammed was speaking at a mentorship programme organised for the Kanda Cluster of Schools by the Executives of GIMPA SRC in Accra.
The interactive event was on the theme: 'The Impact of Social Media on the Girl Child Education.'
She said most social media scandals that the country had witnessed over the years, mostly involved girls, so the executives decided to create the need awareness on the use of the platform and how it could help them develop.
She said social media, when handled well helped children develop better perspective on various issues that affected them in society.
However, too much of it or spending too much time could lead to addiction, which would not be good for children and could affect their studies as well, she warned.
The Women's Commissioner told the GNA that a careful observation from the interaction showed that most of the female students were being abused at home or within the society in which they lived.
She, therefore, called on parents to create the enabling atmosphere for these children to be able to confide in them and discuss these types of issues and also advice their children, accordingly, on what to do, when they found themselves in situations like that.
He advised the children to always concentrate on their studies and avoid being addicted to the use of social media, adding that, the internet was a very important resource, which could support them in their educational development.