Take Advantage Of Tax Amnesty Now – GRA Tells Tax Defaulters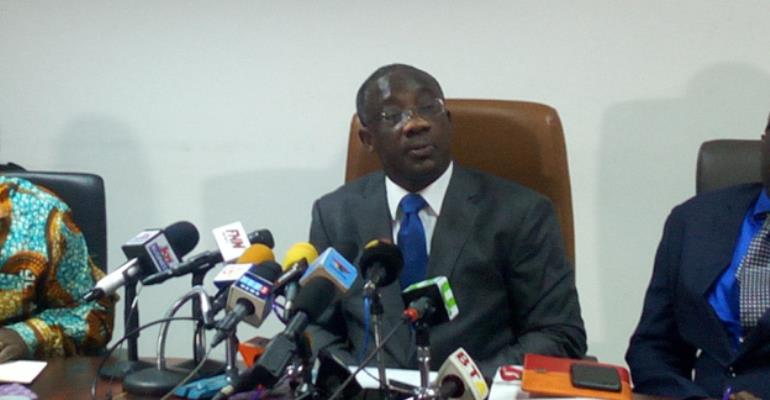 Commissioner General of Ghana Revenue Authority (GRA), Mr Emmanuel Kofi Nti is urging companies and individuals who have not fulfilled their tax outstanding tax obligations to take advantage of the TaxTax Amnesty regime to settle all tax returns.
He hinted that the authority will pursue and prosecute all tax defaulters in the next three months ahead to serve as a deterrent to others.
Mr Kofi-Nti advised all tax payers and prospective tax payers to voluntary pay their tax before the amnesty period expires on 30th September, 2018.
The tax amnesty ACT 2017, (Act 955) was passed by Parliament in December 2017, as a limited-time opportunity for tax payers who have defaulted in any of the four basic requirements for tax compliance namely; Registration with GRA, filling of tax returns by date, paying tax on due dates and making full disclosure (complete and accurate) of financial reporting.
Addressing the media on Wednesday 7th March, 2018 in Accra, Mr Kofi-Nti also stated that this is the last time GRA and for that matter government is offering a tax amnesty for defaulting businesses and persons.
"I therefore call on all persons evening income who have defaulted in the submission in their tax returns and payments or who have not previously registered with GRA to take advantage of the amnesty, come clean and regularise their tax affairs", he stated.
He emphasised that, GRA has the capacity to identify all potential taxpayers and will apply all the sanctions under the law.
"I wish to say that being outside the radar is not an option because GRA will vigorously pursue all tax defaulters including prosecuting them after the expiration of the amnesty period that is, 30th September, 2018" Mr Kofi-Nti stressed.
OBJECTIVES OF TAX AMNESTY:
The Tax Amnesty according to the authority is aimed at:
Facilitating the regularisation of the tax affairs of persons who have defaulted in meeting their tax obligations.
Updating the GRA data base,
Improving tax compliance culture; and
Broaden the tax net.
Application for tax
A person who qualifies for tax amnesty is required to submit an application for amnesty to the Commissioner-General on a Tax Amnesty Application form which can be obtained from any office of the GRA in the country. Or visit the website, www.gra.gov.gh