Ghana Independence Dinner: Lux Afrique Celebrated In Style At Park Chinois, Mayfair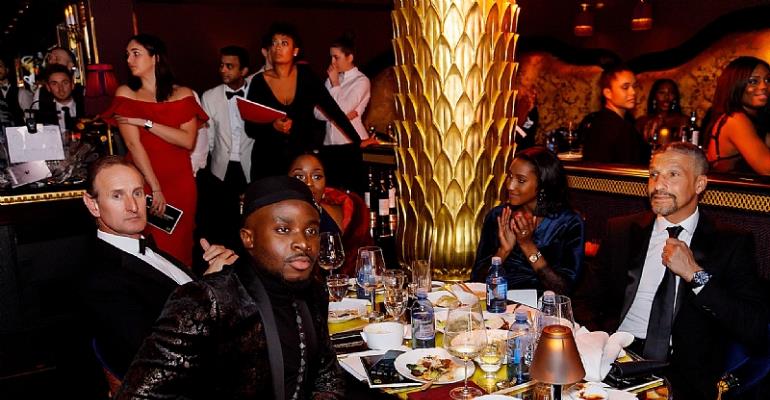 For the first time, Lux Afrique and Park Chinois partnered to host an exclusive dinner for a group of high profile guests of Ghanaian descent from fashion, music and entertainment circles. In the heart of Mayfair, Park Chinoiswas the perfect venue - an iconic entertainment restaurant designed in 1930's Shanghai style and is a regular hub for high profile individuals.
Guests ranged from celebrities such as;artist Lethal Bizzle, ex-footballer and current Brighton and Hove manager Chris Hughton,actor Hugh Quarshie, ex-footballer George Boateng,broadcaster and philanthropist Benny Bonsu, entrepreneur and actress Dentaa Amoateng, Olympian Jeanette Kwayke,NBA photographer Stanley Lumax, former NBA player Pops Mensah-Bonsu, Mobo Awards founder Kanya King, actor David Gyasi and Sky News presenter Claudia-Liz Amrahto Ghanaian dignitaries like Joseph Godson Amamoo, the first black newspaper correspondent. Invitees enjoyed a night of performances and speeches by Nana Kwame Bedaiko and Fuse ODG.
The dinner was followed by a live auction sponsored by Bonhams auction house. Items in the auction included Mohammed Ali's boxing gloves, Lionel Messi and Christiano Ronaldo's football boots and paintings by some of Ghana's finest artists Sarah Owusu and Koby Martin. A substantial amount was raised to aid Fuse ODG in his aim to build a much needed school in Ghana, a cause close to Lux Afrique's heart.
Fuse ODG spoke passionately and captivated the audience about the importance of this school in teaching future generations African and Ghanaian history. It will give future athletes, politicians and artists the confidenceto reach their goalsand the pride they should have for their country and culture. His experiences in Ghana resonated with many and his ambition to change the way Africa is represented was shared with the audience. During his speech the artist said 'It's been so inspiring to hear my brother and sisters speak up tonight' highlighting the important of the event.
The sponsors of the night included Boadicea whose CEO David Crisp enjoyed taking part in the celebrations. Backes and Strauss - makers of the Star of Ghana watch which was gifted to Michelle Obama during their first visit to The Republic of Ghana - kindly show cased some of their finest watches.
The night recognised a landmark in African history and gave an opportunity for Ghana's greatest to eat, dance and drink in the name of Ghanaian history.
About the Organisation:
LUX AFRIQUE is a high-end multimedia platform for marketing and promoting luxury brands targeting audiences on the African continent. LUX AFRIQUE aims to be the driving partner of any luxury brand entering the African market. We understand African consumer needs and can introduce luxury-focused brands to the high net worth consumer markets growing throughout Africa. Our selective process means we have over 500 HNW individuals from across Africa on our database, each earning a minimum of USD $1,000,000 annually.
About Fuse ODG
Fuse ODG burst into the London rap scene through his addictive use of afro-beats, hip-hop and rap. His fame also brought an active platform to influence young people in his local communities. Philanthropy has been one of Fuse's main interests in recent years. From assisting aspirational young people reach their musical dreams through a mobile recording studio to co-founding TINA (This Is New Africa) which encourages Africans to use their skills with an aim of rebuilding their community and have pride in their cultural heritage. He manages these philanthropic ventures whilst furthering his incredible success in the music industry.
About Park Chinois
Park Chinois is a celebration of the romance and etiquette of yesteryear yet with all the thrills and excitement of the present and the unknown. Interiors were inspired by the aesthetics of Chinoiserie; which celebrates the French love affair for the mystique of the Orient resulting in a jaw-dropping interior and an unparalleled dining experience. Menus are largely Chinese yet the ingredients and techniques used are chosen by merit and taste allowing a progressive approach to the menu and the delivery of London's best Chinese food. The intentionally theatrical dining rooms offer a space and experience that allows the guest to participate as both voyeur as well as a more immersive experience as the audience and willing or non-willing participant.