Akufo-Addo Swears In Three Envoys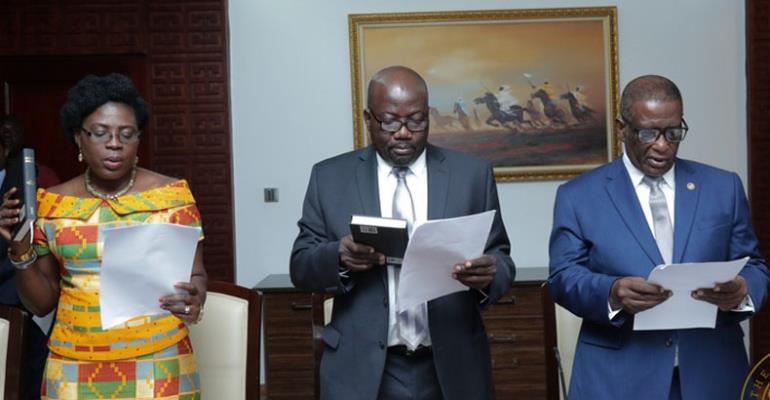 President Akufo-Addo yesterday swore in three more persons to represent the country's interest abroad.
They are the Ambassadors to Japan – Frank Okyere, Zimbabwe – Eric Odoi-Anim and Amma Adoma Twum-Amoah.
With the onerous responsibility of preserving and promoting the image of a country which reputation amongst the comity of nations is high, President Akufo-Addo stressed, "You represent a country that, as a result of the commendable conduct of the Ghanaian people, is regarded as one of the most stable on the continent, which is a functioning democracy, governed by the rule of law, and respect for individual liberties, human rights and the principles of democratic accountability."
He continued, "We are regarded as the beacon and standard bearer of democracy in Africa, and, recently, in April, according to the reputable RMB Global Markets Research, the 4th best place to invest and do business in on the African continent. You are the most visible symbol of our country out there, and in all your actions you must guard jealously our country's image. I am confident this is a charge you will uphold."
President Akufo-Addo also urged the envoys to strive to develop cordial working relations with the professional Foreign Service officers they would find at their duty posts, as well as develop a good rapport with the Ghanaian communities in their respective countries of accreditation.
"Ghana is on very good and cordial terms with the countries to which you have been posted. Our bilateral relations span several decades, and our ties of co-operation remain strong. Your role is to deepen these even further, as well as to explore other areas of effective co-operation, which will inure to the mutual benefit of our respective populations," the president charged.
He continued, "In doing so, you will recall at all times our objective – to build a Ghana Beyond Aid, a Ghana which is self-reliant and exploiting its own resources, honestly, with hard work, enterprise and creativity, to build the free, prosperous Ghana of the dreams of the founding fathers of our nation."
Ghana's Ambassador to Japan, Mr. Frank Okyere, thanked the president and the government and people of Ghana for the honour done them.
They promised to serve the interest of the nation with a commitment to help woo investors into the country to help deliver most of the government's flagship programmes.