Akatsi North Marks 61st Independence Day Anniversary With A Colourful Ceremony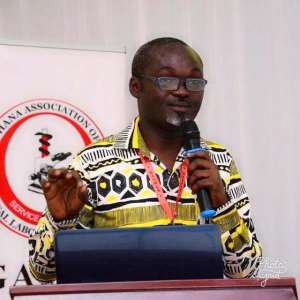 Akatsi North District Assembly led by the District Chief Executive, Hon. Dr. Prince Sodoke Amuzu organized a colourful celebration to mark this year's 61st independence Day celebration at Ave Dakpa Senior High School park. The ceremony was well attended by students, teachers and people in the district. Buses commuted students and teachers from all the basic schools to the ground.
Time management was at its best as everybody was present as scheduled with no casualty recorded. Participants were highly refreshed and the actual feel for an anniversary was felt. Certificates were awarded to some deserving students and teachers who excelled in their fields. The best ornamental school for 2017, went to Agormor-Agado D/A Basic School.
For the best student 2017 BECE category, the best female student went to Emmanuella Sedem Adzornyo and the male category went to Zakari Hamza. For the teachers' category, the best headteacher went to Mr. Agblevor Jeffery of Ave Afiadenyigba D/A JHS, the best Mathematics teacher went to Mr. Amedorme Gershon of Ave Xevi D/A JHS, Mr. Fianyo Christopher took the best Integrated Science teacher and the best English Language teacher went to Miss Agudu Miriam all of Ave Afiadenyigba D/A JHS.
Out of the twenty (20) Junior High Schools who sat for the examination in the District, eight (8) schools recorded 100% pass representing a 40% pass as compared to the about 24.7% in 2016. This indicates a significant improvement in performance over the years in BECE. The event which was held at Ave Dakpa, the district capital had in attendance all heads of Department in the Akatsi North District.
The DCE in his address, spoke the words of the President, His Excellency Nana Addo Dankwa Akuffo-Addo verbatim. In his speech, he admonished the people to be united and be hopitable "We might be Dagartis, Sissalas, Dagombas, Mamprusis, Gonjas, Konkombas, Frafras, Grusis, Kusasis, Gas, Krobos, Ewes, Fantes, Denkyiras, Gomoas, Guans, Nzemas, Ahantas, Sefwis, Akyems, Akwamus, Akuapems, Kwahus, Brongs or Ashantis; we might sometimes even lapse into ancient rivalry modes; but, as Ghanaians, we are comfortable in our skin.
Apart from the physical, outward things that identify us, there are the more subtle, but important things that define us as Ghanaians. We are a hospitable people, we make strangers and visitors feel at home, it is part of our DNA".
He continued that, it's time to get up and override our feebleness "Even though underachievement may have been a major part of our history thus far, it should no longer be part of our destiny. The only nation we are destined to become is the one we choose and decide to be. We do not have to accept someone's definition of Africa or of Ghana. We must define and craft our destiny.
But achieving our destiny requires a deliberate, qualitative change in all aspects of our lives; especially, in the structure of our economy, the state of our infrastructure, the education of our young people and acquisition of skills and above all, in our attitudes and the holding firm to the values that define us."
Again, he said there is the need to stand against some anti-societal menaces so as to develop as a country "My fellow Ghanaians, ours is a country that is well endowed with many natural resources such as gold, bauxite, diamonds, oil, timber, cocoa, water, fertile land etc. The truth, however, is that the state of our nation does not bear out that we have these natural endowments. Poverty continues to be our lot. We have huge infrastructural deficits. Mismanagement, corruption and high fiscal deficits have become the hallmarks of our economy, which we finance through borrowing and foreign aid. Corruption, or, more specifically, the stealing of public funds, continues to hold back the development of our nation. Corruption is not a partisan matter and we must all act to protect the public purse. With the office of the Special Prosecutor now in place we can expect more prosecutions for corruption in the coming months and public officials, present and past, should be on notice that they would be held accountable for their actions".
He concluded that, for us to have a relative tenet of Ghana beyond aid, we need to rebrand our thoughts and add value to our resources "Adding value to our raw materials is also key to industrialization, prosperity and jobs. It is unacceptable that, even though we produce in West Africa 65% of cocoa beans in the world, we earn only between 3.5% and 6% of the final price of a chocolate bar. Value addition is, therefore, imperative if we are to maximize the potential to pursue resource-based industrialization.