French President Macron Creates Commission to Repatriate African Art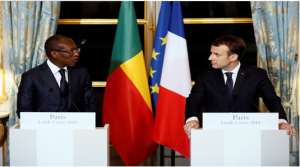 After pledging that African heritage cannot be a prisoner of European museums, French President Macron has set up a commission of two experts to make plans for the repatriation fo African artifacts held in French Museums. The New York Times identifies the two experts as the Senegalese writer and economist Felwine Sarr and the French art historian Bénédicte Savoy., who will consult over the next few months and return their findings by November 2018.
President Macron's appointment of this commission represents a major step forward in the longstanding debate about African ownership of its cultural patrimony. His pledge to engage the matter is already a historic statement and this follow-up action is commendable. It remains to be seen whether these initiatives will yield any new outcomes and I agree that the matter of determining how best to accomplish Macron's goal is quite difficult and will require much negotiation. That said, we should still praise Macron's willingness to move forward on this issue.
Africa cannot afford to live in the 21st century without a global reckoning of how negative forces both foreign and increasingly local, have contributed to the debilitating condition of the continent. I have insisted always the central issue here is not merely the restitution of looted African artworks but a global recognition of the right of Africans to their own bodies and resources, all of which have been plundered endlessly in the past five centuries to promote development of predatory colonial and postcolonial powers whose control continue to place a chokehold on the continent. Discussions about restitution is but an initial phase of the required global reckoning. We can only hope it opens the door to more serious discussions of how to afford the African continent a share of global wealth and resources.