Mampong-Ashanti Campus Of UEW Hosts 2018 Edition Of 'Unified Intercessory Prayers' (UIP)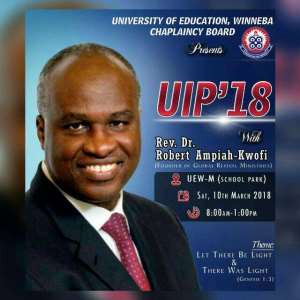 The Mampong Asante Campus of the University of Education Winneba (UEW-M) is hosting this year's Unified Intercessory Prayers (UIP) on the theme , "Let There Be Light and There Was Light"
This prayer program is organised annually by the Chaplaincy Board of the entire University from all the four campuses of the University of Education Winneba. These campuses include the Main Campus at Winneba , the College of Technology Education at Kumasi , College of Languages at Adjumako and then College of Agriculture Education (CAGRIC) located at Mampong Ashanti in the Ashanti Region
This year's UIP program at the the Ashanti-Mampong campus promises to be a welcoming , a spiritual and a life-changing one with Rev. Dr. Robert Ampiah Kwofi as the guest speaker .
The program will take place at the University's school park on Saturday , the 10th of March , 2018 between the hours of 8:00am and 1:00pm .
The host University chaplain , Rev. Kwame Nkrumah Hope ,the Chaplaincy President , Mr. Alfred Agyemang and the college's Chaplaincy Board are however optimistic that the program would address the spiritual needs of those that seek the face of our Lord Jesus Christ on that day as they work tirelessly to make the program a reality .
The Chaplaincy Board of the college is however inviting people from all walks of life to make this year's program at Mampong-Ashanti campus of the University, a success and we are by this encouraging everyone in and around Mampong-Ashanti to come in their numbers to seek solution to their spiritual impediments.
UIP..... "Let There Be Light & There Was Light"
...……....COME ONE , COME ALL.…........
By Oscar Bedzra
Chaplaincy Board Member, Level 300, UEW-M.