What Did Buhari Say @ Ghana's Independence Day?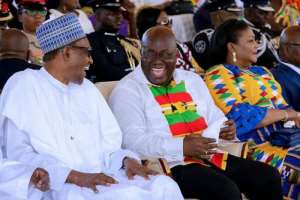 The unique ties between Ghana and Nigeria could be broken by the bug that lives in their cloaks, says this writer.
Ghana turned 61 on Tuesday. 61 years ago her first President Osagyefo Dr. Kwame Nkrumah flanked by his able lieutenants declared Ghana's freedom. And three scores one year on, after that declaration at the Old Polo Grounds opposite the old Parliament House President Akufo-Addo together with his Nigerian counterpart ---President Muhammadu Buhari observed the 61st historic event at the Black Star Square in Accra, amid pomp and pageantry.
There was also a matchless display of patriotism, nationalism and unity. That remarkable spectacle has caused our brothers and sisters from Nigeria to thirst. They wish Nigerians could do the same in their homeland .They claim the people don't get the opportunity to celebrate their beloved nation as showcased by Ghanaians on Tuesday 6 March 2018.
In fact one prominent senator has expressed his feelings via a post on Instagram.
"I'm ashamed... I feel sad and ashamed this morning as I physically see the cultural and national demonstration of love , unity and purpose exhibited by Ghanaians here at the Black Star Square …as Ghana celebrate61st independence and 25 years of uninterrupted democracy," Senator Dino Melaye.
He couldn't fathom how eminent Nigerians watched the allure and the heritage displayed by their west-African close neighbours.
.."My president and eminent Nigerians watch this glamour and respect for heritage which Nigeria as Regional Champions lost years ago. We have stop celebrating anything in Nigeria. I.e Independence day, Democracy day and Children's day."
But what Did Buhari say at Ghana's Independence Day?
Yours truly is here in Abuja, Nigeria's administrative capital, precisely at the presidential palace- Asor Rock. I'm going to put the question to President Muhammadu Buhari once again. Whether he said anything other than what it had been reported in the mainstream (traditional) media?
So, Mr. President the ball is in your court, what exactly did you say concerning the fight against corruption?
MB: First of all, I commended the government and parliament of Ghana for the passage of the office of Special Prosecutor." What's the man's name the SP?"
He's Martin Amidu.
"Thank you. I think he's what it takes to fight corruption in your country. I said the office will help in the fight against the canker on the continent. And here, you can put me on record or in quotes. I said: "You (I was referring to your president Akufo-Addo) can be assured that you've a good partner as I look forward to any form of collaboration between Nigeria and Ghana in tackling the endemic corruption that had eaten into the fabrics of both countries."
Mr. President is there something else you said about corruption but probably don't remember you did?
MB: "With regard to corruption that's all I said. I didn't say I've machine guns or katyusha rockets to give to Ghana. I didn't promise the government or people of Ghana drones. And I didn't say I've got a magic wand to give to Ghana in its fight against corruption. Don't forget Nigeria is still in this morass. We're literally neck deep in the mess. Also don't be surprise to hear I'm not popular in my own home country.
Why Mr. President?
MB: "It's because I'm championing the fight to free Nigeria from the bad reputation she's gained abroad. On another serious note, let me state it unequivocally, I made that pronouncement at the Independence Square based on the fact that Nigeria and Ghana are in this fight together, even though your country is better than ours with respect to this fight. Thus, in part I made that statement in solidarity with a brother who's shown the same passion and spirit to fight corruption. That's all I said."
I believe you Mr. President. Unfortunately, what's trending on the social media –Facebook, WhatsApp, Twitter etc. suggests something other than your proclamation in Accra.
It seems a lot has been read into it. And I hope to do justice to them as we progress steadily. In my view, those claims cannot and should not be allowed to stand as truth or authentic. Some individuals are claiming, you made it emphatic that you would 'HELP' Ghana fight corruption. I've carefully listened to your speech on the Internet and I didn't hear you make such utterance.
Others have injected sarcasm into the narrative. They've played the mischief card and at the same time tried to validate their unfounded claim. And you won't believe they've also renamed Ghana's presidential palace as 'The Bribe staff House'.
This is what one FBK user wrote: "We claim the speech was written for him by our own people here at the bribe staff house," wrote one Facebook user. And others contend that you've already lost the fight against corruption in your backyard so how you help your brother fight his enemies?
"When he cannot curb corruption in his own backyard .So how can he help Nana?" He went on to say: "At Asor Rock where rodents had eaten everything?"
The Facts
The fact of the matter is this: President Buhari said he would collaborate with Ghana in its fight against corruption. And collaboration means collaboration. He didn't use 'help' anywhere in his speech as purported by his critics. So let's mark down 'Collaborate as the operative word.' To collaborate means to work jointly on an activity especially to produce or create something. Here are a few synonyms of the word-Collaborate: --co-operate, join forces, team up, work together, pool resources together, pull-heads together etc.
In contrast, help means to make it easier for someone to do something by offering one's services or resources. Thus, just like President Buhari pointed out earlier, he didn't promise Ghana a silver bullet to fight its battle against corruption. That said I am hopeful Ghana and Nigeria can do this together. And I think the speech writers of the Nigerian president chose the word collaborate carefully. Of course the need to collaborate in this effort to me will even go beyond Ghana's fight against corruption.
Bilateral Relations
Mr. President how do you see ECOWAS future in the midst of crime wave in member states like Ghana in recent times? MB: I will urge Ghana and Nigeria to continue to provide the impetus for the realisation of objectives of the Economic Community of West Africa (ECOWAS I think it's our duty to ensure peace and development of our nations."
Can the ties between Ghana and Nigeria stand the test of time?
"That remains to be observed."
I'm glad you said that Mr. President. But I fear the bug that lives in the clothes of the two nations. It appears to be causing damage by the day and I think it's a matter of time. Recent publications in some broadsheets suggest the ground isn't all that smooth. They tend to submit that something unpleasant could rear its head if pragmatic steps aren't taken immediately.
In early January this year, a Nigerian resident in Ghana asked Ghana Immigration Service to sit up and keep the country's borders safe, specifically the Aflao border. "I think Ghana Immigration should sit up. Ghana Immigration should get to Aflao and tighten the border,' he said in an audio shared on the social media.
He alleged that Nigerian women in Ghana are into sex trade and child trafficking. And these minors he claims are used as sex workers in Ghana by their pimps.
Mr. President I don't say this to heighten your worries (as we successfully bring this meeting to an end) , another audio has surfaced purporting that there are some Nigerians that had fled the country to Ghana to continue what he called their 'kidney business'. "Chase them out of your country, they're criminals. Chase them out, "a man was heard in the said audio.
It's an understatement to say I I find the current audio very troubling. Therefore, I will humbly ask the two governments to share any vital information that could help nip this alleged problem in the bud. A stitch in time saves nine. I can't leave the security agencies in Ghana t out. They should sharpen their third eye and treat or give the latest audio all the attention it deserves. I think they will lose nothing if they find nothing. However it would potentially cause the two nations an unimaginable price if we don't act proactively.