Interview With Nana Tina Owusu-Prempeh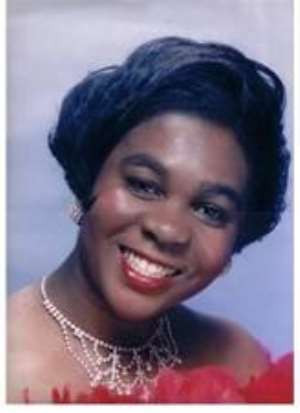 Chief Executive Officer, Tin-ifa Ghana Ltd. Down to earth, hardworking and successful Female Executive. 1. A brief background, place of birth, education and training NANAYAA TINA OWUSU-PREMPEH, born September 21, 1967 in Kofiase, Ashanti-Mampong, Ghana, fourth child of five children. She speaks 9 languages; 3 international and 6 local dialects. An Aluminus of Garrison Primary Schools both located in Kumasi and Accra. She was a very athletic student of Tema Secondary School, class of 84. Studied Secretarial Sciences at Social Advance Institute in Accra, and also French and Spanish at the Institute of Languages and Alliance Francaise in Ghana. She is licensed as a Nursing Assistant, Legal Assistant, Real Estate Sales, all in the State of New Jersey, USA. Attended Gibbs College for Corporate Management and Administration and now pursuing a Masters in Business Administration with concentration on Information Technology at the Western Governors' University, Utah, USA. An ordained Reverend Minister of Calvary Life Chapel International and now serving as resident Pastor in the New Jersey Branch, Teaneck, USA. 2. Who was your role model as a young lady? My mother, Mrs Rose Adjei has been my role model, because she has shown nothing but love and a lifestyle of giving to all who come around her. She took me to the house of the Lord and I have never stopped serving God since. 3. What inspired you to become an entrepreneur? Entrepreneurial spirit is given by God, but entrepreneurial attitude and skills are acquired by determination, dilligence, and discipline. I began desiring for the spirit when my husband started inspiring me with his entrepreneurial spirit. So God released it to me as it says in the bible, he grants the desire of our hearts. 4. What has been the extent of your success as an entrepreneur? To be found worthy as a child of God and ordained as a Reverend Minister is my greatest honor and greatest achievement. I also take pride in the following:
Initiator and Current President of GISPA (Ghana Internet Service Providers Association)
Member of WITI (Women in Technology International) USA, WIPP (Women Impacting Public Policy) USA
Member of NET-BID, (Northeast Teaneck Business Improving District) Committee, a sub committee of the Teaneck Economic Development Corporation
Managing Partner of IFA Group
Network LLC and NSAC (Newtech Solutions and Credit Systems)a fully blown Information Technology/Financial
Services Interactive Services Provider.
Chief Executive Officer of Tin-ifa Ghana Ltd, Internet Service Providing Company
Executive Producer of Tin-topic Productions, Record Label and a live-performance band
Executive Director, Topps Chemical and Industries, Ghana Ltd, a Hair Products Manufacturing Company in Ghana.
Member, Rotary International, Accra-North, Ghana. Honorary member of Teaneck Rotary, USA. 5. What is the most valuable lesson learned from that achievement? Nothing that you do can change God. Do not fret yourself over things that you have NO control over, for therein lies a
bag of stress. 6. What is your greatest achievement? Winning souls for Christ is my greatest passion and I have learnt of the goodness of the Lord by going on this mission. I choose to take care of the things of God first and I realize that all other things fall in place in His own time, and boy, its beautiful. 7. What has been your weakness and how you turned that weakness into strength? My weakness is staying up too late, sometimes till 5.30 am without feeling sleepy. I have been able to use this weakness if I may, to work internationally, communicating with my offices in Ghana while working and studying on the internet through the night. Due to the time interval between the United States and Ghana, staying up late helps me direct my office in Ghana first thing in the morning before they start their daily operations. 8. Do you think the NPP government is utilizing the right approach to draw on the resources of Ghanaian Diasporans (human and material) to facilitate the economic development of the country? My opinion may be debatable, but using the right approach is relevant to what it applies to. I can speak of my experience which may be exactly what many in diaspora will be going through anyway. I am not sure what mechanism the government is using to communicate with us, I mean the Ghanaian citizens abroad. Many Ghanaians do not even know the use and benefit of the foreign office abroad. The least skillful person in diaspora is still very useful to Ghana and must be accommodated in as many ways as possible. I say this because we do not all possess the same qualities and what I can do, you may not be able to do, and vice versa. All the transfers of foreign exchange flooding into Ghana from abroad do not discriminate against professional or occupational lines. A Dollar is a dollar, whether from a janitor or from a medical doctor, so I am convinced that we all have something to contribute to the socio-economic growth of Ghana. My problem is, no one from the government
contacts the citizens or no government instrument is in place to solicit for any contribution donation or whatever name we may give it, either in human capacity or financial contribution. Some people have even gone to the extent of offering their assistance in various ways pro bono, but I guess there is the suspicion that nothing in life is free so there is a lot of resistance from the government. The government must encourage Ghanaians abroad to come together, contribute $1 a month or $10 a month into a common non-partisan fund labeled "Operation Save Ghana". This is expedient to help bring money home to help without being forced to pay monies which do not land into the coffers of the state. This could be voluntary; signatories to the account must be transparent and confidently chosen with a representation of the Government from Ghana. Think about it, how many Ghanaians are abroad and a dollar a month means little drops of water. "M'a lande" 9. What do you think of the state of corruption in Ghana at the moment? There is no justification for corruption at any level, though you will always hear reasonable excuses from practitioners, they could all be avoided or better still prevented. I have noticed that mediocrity has taken over principles of good governance and personal gains and greed has consumed many of the same people who have been charged to direct the affairs of the nation. Riches have become more important than a good name and easy money has become the leading motivator to people and causing them to commit unimaginable crimes just for easy money. 10. Do you plan to be involved in politics in the future? Politics is a game and if you do not learn the tricks involved, you can be broken even before you blink. I am praying to my God and He directs my path, if it is His will for me to get into politics, I will expect Him to equip me just for that, I desire to serve and contribute to the socio-economic growth and sustainability of both USA and Ghana and God will grant me the desires of my heart. If that can only be achieved by getting involved in politics, so be it, but if there is any other way that I can achieve that without getting into politics, I would prefer that.
11. What message of encouragement do you have for Ghanaian youth in general?
I wish to advice all the youth in Ghana, to first and foremost seek the kingdom of God and His righteousness then all other things shall be added unto them. There is nothing like easy money when you prey on others' weaknesses or handicaps to massacre what does not belong to you. It is even more brutal when you take an office of oath then you start abusing power that the people have entrusted into your hands,
Acknowledgement: Nanayaa Owusu-Prempeh, CEO, Tin-ifa Ghana Ltd