Daban Achiase Gets New Chief As He Promises Massive Development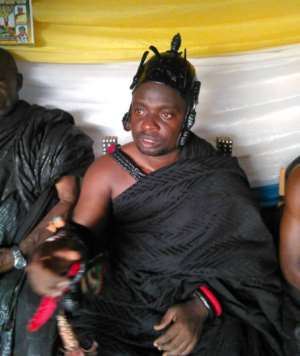 Nana Kwabena Adu Acheampong I is the new Chief of Daban Achiase in the Ashanti Region. He was installed at the Manhyia Palace last week after swearing the oath of allegiance to Otumfuo Osei Tutu II.
The process was led by the Saamanhene, Nana Osei Kwaku lll, as customary demands. Speaking to Atinka FM shortly after his installation, Nana Kwabena Adu Acheampong I, called for total support from his subjects in order to promote massive developments in the area.
According to him, Daban Achiase has not seen any serious development for a very long time due to leadership vacuum over the years.
As a development –oriented person, Nana Kwabena said he would embark on several initiatives to improve the wellbeing of the people. Nana Kwabena Adu Acheampong promised to secure funds to establish projects the seek to promote education in Daban Achiase.
He said, he would ensure that the town gets a new police station to improve security in the area and later embark on other developmental projects.
He, therefore, called for unity in the area for smooth implementation of the projects, adding that without unity, there will be no development.
Otumfuo's Saamanhene, Nana Osei Kwaku lll, also urged Nana Kwabena Adu Acheampong to abide by the rules governing chieftaincy to ensure peaceful co-existence as well as promote development. Ghana | Atinkaonline.com | Prince Osei Tutu