Driverless Truck Runs Into Range Rover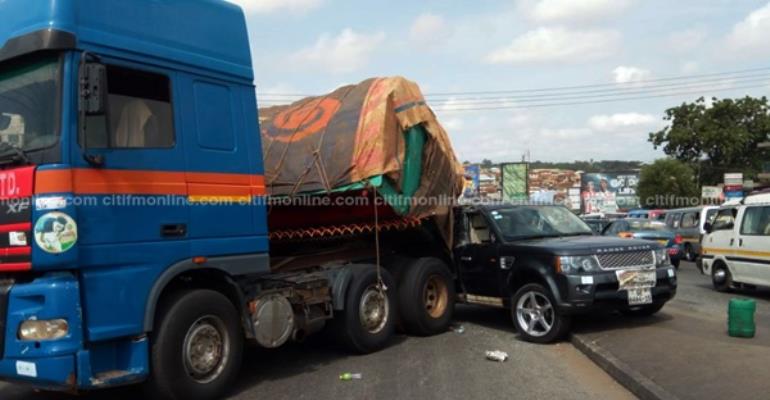 A man has been hospitalized after a truck without a driver packed on a hilly road, crashed into his Range Rover on Tuesday evening in Kumasi.
The truck, which was carrying shea nuts, had been involved in an accident with a Toyota Corolla, and the drivers of the two cars were at a police station, when the second incident occurred around 10:30 pm.
It is suspected that the truck's hand break lost its grip causing it to go down the slope, and eventually crashing into the Range Rover at an intersection on the Anloga junction-KNUST road.
"Whiles the two of them were here making a formal report of the police, the truck started reversing with no driver in it. No control, so this range rover which was also travelling on the right end towards the KNUST end was directly behind it," the Manhyia Divisional Police Commander, ACP Kwaku Buah told Citi News.
The driver tried to swerve towards the other side of the road but was unable to escape a collision.
"Thankfully, nobody has died from this accident but the driver of the Range Rover is injured and is on admission at the Kompf Anokye Teaching Hospital responding to treatment," ACP Buah added.
He added that Police have begun investigations into the crash.
"What we have to do is to take this truck and the other accident vehicles to the testing officer to test and give us his expert advice. Thereafter, we will take the next step."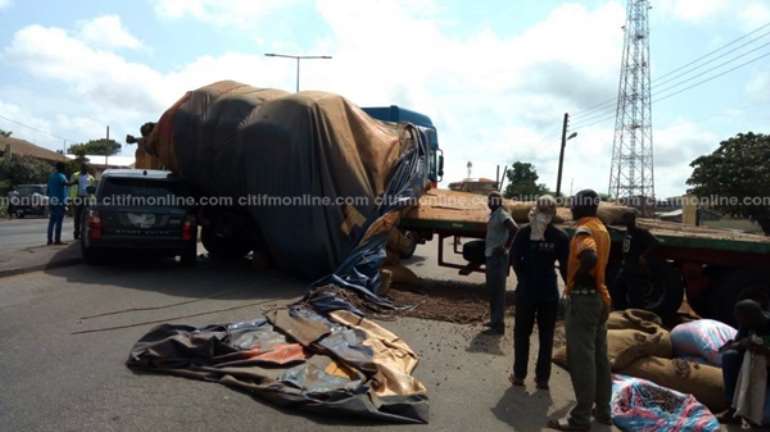 The crash caused heavy vehicular traffic on the Anloga junction intersection, and police officers were busily directing motorists to ease the flow of traffic when Citi News visited the scene.
The Range Rover has since been towed to the Oforikrom Police Station.
Owners of the truck were also unloading the Shea nuts from the carrier before it can be towed.