Police Rescues 51 Ghanaians Being Trafficked To Guinea-Conakry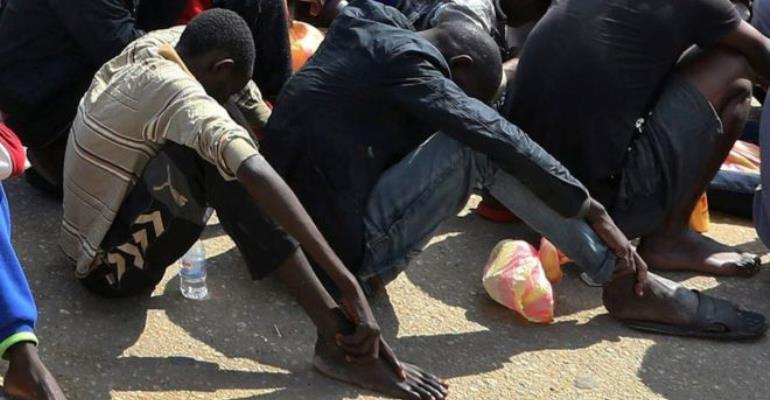 The Marine Police Unit of the Ghana Police Service on Monday intercepted 51 people suspected of being trafficked from Ghana to Guinea-Conakry.
According to the Marine Police Command, the trafficking ring, who were coming from Ada in the Greater Accra Region, were on board an artisanal fishing boat heading to Guinea-Conakry when they were busted by the patrol team.
The Director in charge of the Marine Police Unit, Assistant Commissioner of Police (ACP) Seidu Iddi, confirmed the arrest when he briefed the media in Takoradi in the Western Region.
He explained that because the Marine Unit could not immediately move the suspects from the high seas to the shore during the arrest, they had to fall on the Takoradi Port to assist them with a bigger boat to aid the movement of the 51 and their boat from the high seas to the Takoradi Port anchorage.
ACP Seidu Iddi said the preliminary investigations carried out by the command suggest the traffickers were carrying along equipment suspected of being used in small-scale and illegal mining expedition.
He, however, could not readily mention the type of equipment that was on board the vessel, except to indicate that subsequent investigations would unravel the facts.
He said the command would ascertain those facilitating the traffickers' movement from Ghana to Guinea.
At the moment, he said all the 51 would be detained pending court action.
He said they are being dispatched to the various police stations ahead of prosecution due to the smaller nature of the Marine Police.
Established in 2014, the Marine Police Unit has been in charge of patrolling the territorial waters of the country.
Monday's arrest, the command noted, was part of the usual patrol carried out by the command.