March 7, 2018
|
General News
Dangerous Ice Cubes Destroyed Properties In Krachi East - V/R
Christiana Ativi Oti radio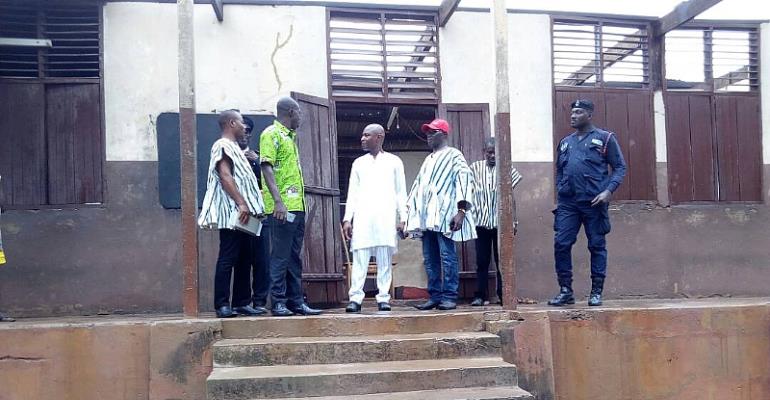 Residents of Ayerumu, a farming community under Krachi East Municipal are still shocked and trying to find words of adjectives to describe about the Sunday's rainfall in the community. 48 hours after the rain storm, the ice cubes still remained unmelted.
More than 70% houses including school buildings and CHPS compound were rip - off rendering hundreds of people homeless whiles some were severely injured in both Ayerumu and Pai Katanga all under Krachi East Municipality of Volta region by the severe rainstorm with dangerous ice cubes falling from sky last Sunday which lasted for 25 minutes.
Speaking to the some residents in the community by Oti news team revealed that bush animals like rabbit's and aquarelle were found dead at farms due to the rainstorm. The land polls and it's high tension cables were also affected by the Storm.
The member of Parliament for Krachi has Hon. Yaw Gyato Michael who Double as Deputy Minister for Water Resources and Sanitation, Hon. Patrick Charty Jilima MCE together with their entourage paid a visit to the affected Victims yesterday after the independence day parade. Hon. Gyato sympathised with them and also advised the chiefs and elders in the communities to make sure unnecessary wood lodging comes to an end in the area they should also adopt strategies of tree planting within their surroundings.
However, when the team got to Pai Katanga yesterday, it was recorded that, a nine year old Abena Maanu lost her life while her mother also sustained severe injury as a result of the storm, the entire building collapsed on them. According to the family, the deceased had since been deposited at WoraWora Government hospital morgue while making the necessary arrangements for her burials tomorrow Thursday 8 March, 2018.
Hon. Gyato had therefore, urged the Assembly to as mater of urgency provide roofing sheets and other building materials for renovation of affected school and CHPS compound and other individuals. He also promised to support the bereaved family with funding to bury the innocent girl Abena Maanu.
Source: Christiana Ativi Oti radio