March 7, 2018
|
News Regional News
61st Independence Day Anniversary Held At Nsawkaw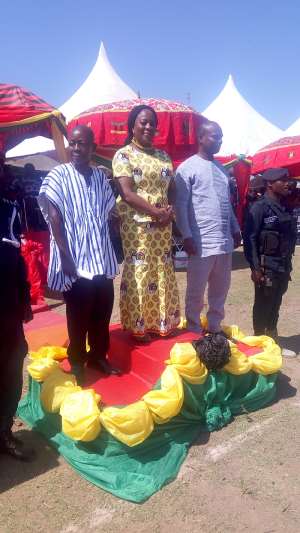 The 61st Independence Day Anniversary celebration in the Tain District was held at Methodist Junior High School park, Nsawkaw, the District capital under the theme" Ghana Beyond Aid."
The celebration was marked with the traditional march past and parade by 23 schools made up 11 primary, 8 Junior High and 4 Senior High Schools and some organized groups in the District displaying their marching skills while saluting the National Flag to commemorate the day.
The event had in attendance the member of Parliament, district police Commander, Nananom,officials from the Ghana Education Service and other distinguished personalities.
Delivering the Anniversary address, the District Chief Executive, Hon. Charity Oforiwaa Dwommoh said it is time we pursue a path to prosperity and self respect for our nation. She said, a Ghana Beyond Aid is a prosperous and self confident Ghana that is in charge of it's economic destiny.
" To get a Ghana Beyond Aid, we will have to effectively harness our own resources and creatively and efficiently deploy them for rapid economic and social transformation. This requires hard work, enterprise, creativity and a consistent fight against corruption in the public." the DCE added.
According to Hon Charity Oforiwaa Dwommoh, going Beyond Aid means we should not serve as front for foreign companies to defraud the country, we pay all our taxes, and help to take care of government property as it were our own.
She therefore urged the public to change our mind set from dependence to one of achieving our destiny. It will also push us in charge of our own affairs and make us truly independent which will give us the respect and divinity we deserve as Ghanaians.
The schools that excel during the march past in the various categories were honored.