Nob-J Concept To Embark On Sanitation Campaign In Asutifi South District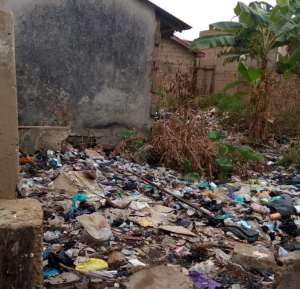 A community based Non Governmental Organization in Asutifi South District called NOB-J CONCEPT has just launched a campaign to embark on a fight against poor sanitation practices in the district. The campaign dubbed, "Cleanliness, a Necessity, not a Luxury" is an annual campaign which kicks off on 5th of March, 2018.
Speaking with the Public Relation Officer for the campaign at the launch, Mr. Patrick Asante Jnr Said, the organization seeks to bring to the realization of the people in the District, some effective cleanliness routines, while also eradicating the perception that "good sanitation is unrealistic in Ghana" The campaign also aims at projecting cleanliness as both an individual and collective responsibility. Basically, the campaign aims to preach (individual) hygiene as a requisite for community's (general) hygiene.
The entire country has been struggling with poor sanitation practice for a very long time. This has become a headache to almost every past Government of the Republic Of Ghana. In the last quarter of 2017, the President,H.E Nana Addo Dankwaa Akufo Addo on Monday, 13 November, at the launch of the National Sanitation Campaign at the Banquet Hall of the State House, confessed that truly poor sanitation practice is one of the biggest challenges facing our dear nation Ghana and called for help from all Chiefs, Queen Mothers, Religious and opinion leaders, civil society organizations and Private sector operators to come on board and help fight poor sanitation practices which has eaten deep into the minds of Ghanaians.
This touched the executives of NOB-J CONCEPT to speed up their preparation towards this campaign. The launch which took place last Friday 2/3/18 at the organization's premises at Hwidiem in the Brong Ahafo Region, was witnessed by some journalists and dignitaries in the District.
In an interview with the Ambassador for the campaign,Frimpong Adutwumwaa Selina known in showbiz Aya, a musician and a professional Teacher at Hwidiem Senior High School said, "I felt good when I was mentioned as ambassador for this campaign. I look forward to contributing my little knowledge to help fight poor sanitation practices and achieve a healthy environment" Aya is being supported by two Junior High School students from Ola Preparatory and Junior high School, also at Hwidiem, -Bezaleel Kwaku Mensah and Blessing Amankwaah Frimpong.
The public Relation officer for the organization, Patrick Asante Junior on how different this campaign is to the numerous campaigns Ghana has seen over the years said, "This sanitation campaign brings with it an entirely innovative means of arresting the present situation and subsequently averting a future poor sanitation menace. This would be done through effective sensitization of the people on good sanitation practices. People would be educated to see sanitation as a culture and not a one-off daily chore. The statistics would come out annually on the rankings of nations and cities, with efforts to address it.
Quite unimaginable, but this one is looking at mental orientation and Innovative means, and by that we mean, analogically, we want good sanitation to be viewed as the oxygen we breath in each micro second. This practice should be continuous throughout each day. But of course, financially rewarding too."
The former board chairman of Hwidiem Snr High School and former Presiding Member for Asutifi District (2000 - 2008), Mr S.B. Nsankyire who is among the patrons of this organization said, "I see this sanitation campaign as a very nice initiative. What I do know is that cleanliness is something God has endorsed. During my time as Presiding Member at Asutifi District I realized sanitation was one of the biggest challenges facing the assembly so if these gentlemen have come together as an organization to tackle sanitation in the District, and campaign to the hearing of every single person of how necessary it is to make good sanitation practice a culture and create more awareness, then I give them my full support."