March 5, 2018
|
Regional News
Better Days Are Ahead Tarkwa--Nsuaem MCE Assures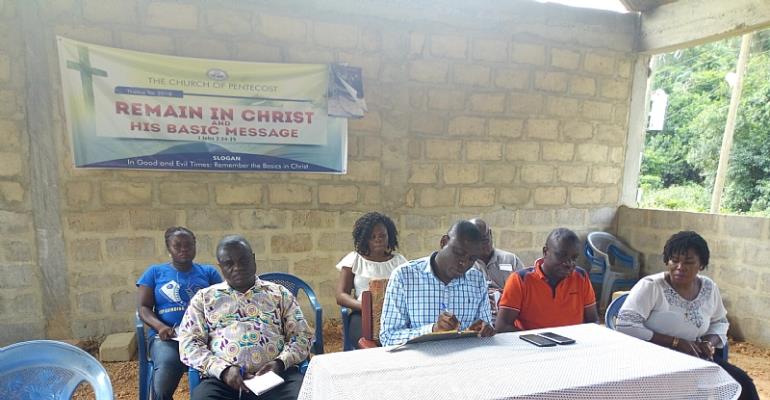 The Municipal Chief Executive for Tarkwa-Nsuaem Municipality, Hon Gilbert Ken Asmah has assured his constituents of voluminous developmental projects, policies and programmes as outlined in budget presentation by His Excellency Nana Akufo Addo, President of the Republic of Ghana.
Hon Asmah believes that constant visitation to the communities will offer him a better understanding of the situation on the ground so as to profess the right remedy to them. The communities visited include Benso, Benso Esaman, Ningo, Subriso, Mahamo, Yayaho and Amanten respectively.
The one day intensive tour in Seven communities within my Municipality was mainly to touch base with my constituents; As the ultimate development agents and representative of the President in the Tarkwa-Nsuaem Municipality The Tarkwa-Nsuaem Municipality, it was important to be in constant touch with my constituents so we can better represent them to effect the change we all need for a better society we all desire.
"My regime believes that constant engagement and consultations with the local people specifically on the Medium Term Development Plan was the surest way for the government to meet the priorities of the communities in the area of development.
He was accompanied by his dedicated and hardworking team of Technocrats, key among them include Mr. Obeng, Municipal Works Engineer, Amanda Pokua Josephson, Planning Officer, Mr. Kojo Armah, Feeder Roads Engineer, Public Relations Officer, Babbie Annan Nunoo and Mr. Seth Budget Analyst.
The chiefs expressed satisfaction with the spate at which the Gilbert Ken Asmah TNMA led administration was implementing development projects and policies with just barely ten months in office, the Chiefs of Mahamo, Yahayo and Benso Esaman also commended him for the unprecedented community visit.
The MCE seized the opportunity to inspect some projects he is undertaking in the Municipality, some of which include Nsuaem Mile 5 CHPS compound, Dompim Market sheds, Benso Police Station with accommodation, Dompim enhanced CHPS compound, Dompim Police station with accommodation and Dompim markets sheds, the others are Benso Esaman 2 units classroom block and a 2 bedroom semi detached storey of 4 flats government hospital Doctors at Tarkwa Governor Hill; all the projects are various stages of completion whilst some too will be ready for commissioning soon he noted.