March 5, 2018
|
News Crime & Punishment
We Don't Have Money For Lawyers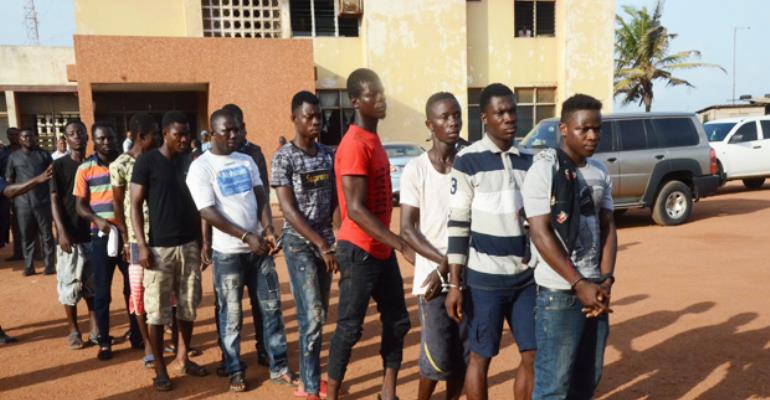 Five of the accused persons involved in the murder of Major Maxwell Mahama have told the Accra High Court that they don't have money to afford the services of a lawyer.
Out of the 14 accused persons standing trial for murder, 9 already have lawyers to defend them but five are yet to get lawyers.
When the presiding Judge, Justice Mariama Owusu asked the reason they don't have lawyers, Kofi Nyame, John Bosie and Bismarck Abanga revealed that their parents are dead and they don't have anybody to pay for the services of a lawyer for them.
The remaining two, Joseph Appiah and Kwadwo Anima, however, told the court that their parents are not picking their calls.
The judge has therefore adjourned the case to 21st March, 2018 for the five accused persons to get lawyers for the trial to start.
The Presiding judge indicated that since it is a murder trial, it is extremely important that all the accused persons have legal representation before the trial starts.
The first, second and fourth accused persons were represented in court by Augustine Gyamfi.
He indicated to the court that he is in talks with other Human Rights lawyers for them to pick up the case on pro bono basis to ensure that all the accused persons have proper representation.
The Presiding Judge, Mariama Owusu subsequently adjourned sitting to the 21st of March 2018 with a caution to the accused persons without representation that the court at the next adjourned date will be forced to proceed with the trial.
Meanwhile, spokesperson for Major Mahama's family, Zachariah Sakara Ahmed, observed that the family is not happy about the number of persons standing trial for the murder of their son.
It was their expectation that some fifty (50) persons would have stood trial. The family would, however, not begrudge the police for prosecuting only fourteen (14) suspects.
The father of the late Major Mahama, Captain Rtd. Dennis Mahama was in court for the first time to observe court proceedings.