CID concerned about Gizelle's security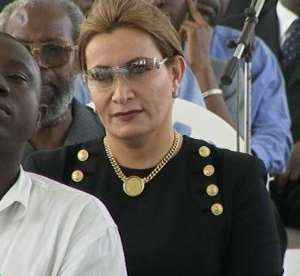 Information available to The Statesman indicates that Gizelle Yajzi, the lady at the centre of the controversy over the purchase of a hotel at Airport West, a suburb of Accra, by the son of the president, Chief Kufuor, and a consortium of investors, will be arriving in the country on Monday, August 15. Her visa is said to be valid until the 21st of this month. Thus, she has a little under a week to substantiate her allegations against the first family.
A group calling itself Friends of the Truth has been formed to champion the cause of Ms Yajzi. Information available to The Statesman has it the group is likely to welcome her at the Kotoka Airport with a mini rally. The group is expected to hold a press conference at the Holy Gardens, Kwame Nkrumah Circle today
A second group calling itself Enemies of Lies intends to counter demonstrate against her arrival in the country. This group has vowed to do whatever it takes to make sure she utters no defamatory statements against the presidency. A source within the group told The Statesman members of the group were "convinced beyond doubt" that she was a puppet in the hands of a group bent on making the government unpopular, the country ungovernable, and ultimately bring the government down.
The stage has thus been set for hopefully, a barrage of press conferences. However, a source at the Police Criminal Investigations Department told this paper that there are growing concerns over Ms Yajzi's safety whilst in the country. There are fears that extremist elements of both groups might try to cause her harm. The source said the greatest concern was over the probable actions of the Enemies of Lies, said to be made up of young men from Nima, Maamobi and its environs, who say they have had enough of a foreigner with no locus standi defaming the president. An attempt to physically harm her would have the unwanted effect of embarrassing the government, playing into the hands of the lady's supporters, a political analyst added.
Police sources say the Service would appeal to members of the Enemies of Lies, who are also bent on holding a counter press conference at the Holy Gardens today, to postpone their conference to a later date. The sources said in the meantime, the Service is considering offering Ms Yajzi full protection throughout the period her visa remains valid. Whether she would stay until her visa expires, or if indeed she will come, remains to be seen.