March 5, 2018
|
News Regional News
Founder Of Megaword Chapel Int.In Takoradi Honoured With Doctorate Degree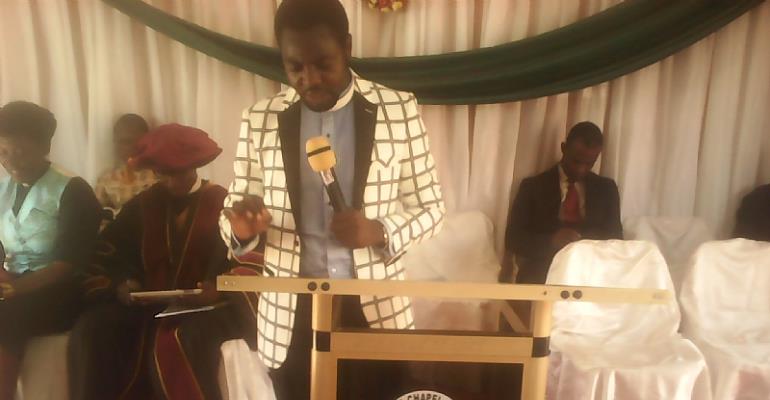 President of the School of Advanced Leadership Training (SALT) in Accra,the Rev.(Dr.) Steward Obeng Godfred has admonished believers and leaders of the of the flock to avail themselves for the Lord Jesus Christ to use them profitably in building the Church.
Believers must therefore do away with misconceptions about the Church such as the Church is for the Pastor and as a result fail to get involved in Church activities.
The Rev (.Dr.) Obeng Godfred was preaching a sermon on the theme "Helping To Build The Church" at the Megaword Chapel International(MCI,) as part of the Doctorate Honouration Thanksgiving Service of the Rev.(Dr.) Joe Badu Danquah ,Founder and President of the Church at the Takoradi Technical University (TTU).
The General Overseer of the Christian Faith Church International,Rev.Emmanuel Botwey who performed the induction service, and presentef a certificate of Degree of Honourary Doctorate of Theology from the Bible Institute of America,entreated the awardee to keep the vision alive and win more souls for the Lord's vineyard.
He reminded Believers to always see themselves as profitable servants of God and be mindful that "their works are not unto men but unto God".
The Rev.(Dr.) Obeng Godfred therefore charged believers to support the Church with their talents,money,evangelism among others.
He said most believers are unmindful of the fact that they are part of the spiritual building of the Church and decide to leave the Church when their expectation were not met which does not augur well for their spiritual growth.
The Preacher used the occasion to appeal to all believers and those in responsible positions to use their offices to help build the Church.
In an address, the Rev.(Dr.) Joe B.Danquah paid glowing tribute to his family,the Church, Good News FM and the entire Western Region for patronizing his Religious programmes on air.
He said the Church has established a school to give partial scholarships to needy children who wish to pursue higher education.
The Rev.(Dr.) Joe B.Danquah is the Founder of the International Youth Mentorship Network and a former Manager of Help FM.
He is the author of The Shield and Salt and other Religious Books not yet in print.
He is married to Rev.( Mrs.).Portia Danquah with three children.