Ghanaians In Sierra Leone Presents $3000 For Operations Six Points'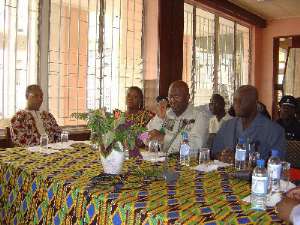 The Ghanaian Community in Sierra Leone has presented $3000 to the Ministry of Foreign Affairs at a brief ceremony in Accra as its contribution to the OPERATION SIX POINTS Campaign declared by President John Agyekum Kufuor to ensure that the Black Stars qualify for the next World Cup in Germany in 2006.
Ghana's High Commissioner to Sierra Leone, Kabral Blay-Amihere who made the presentation on behalf of the Ghanaian Community in Sierra Leone said that the memorable victory of the Black Stars over South Africa's Bafana Bafana has created a very golden opportunity for Ghana to finally make it to a World Cup and said that Ghanaians in Sierra Leone were inspired by the victory to make their modest contribution.
The $3000 contribution of the Ghanaian Community consists of the original amount of $2500 raised at the fundraising dinnerand an additional contribution of $500.
Receiving the contribution, Ghana's Minister of Foreign Affairs, Nana Akufo Addo commended the Ghanaian community in Sierra Leone for their continued support for the motherland through the DOLLAR A MONTH FOR GHANA FUND and the initiative of the Freetown Mission to raise funds for the campaign of the Black Stars for the next World Cup.
He said that the Ministry of Foreign Affairs is fully behind OPERATIONS SIX POINTS and is doing everyhthing through Ghana's Missions abroad to mobilize the financial and moral support of all Ghanaians for the Black Stars.
According to Nana Akufo Addo, the current crop of Black Stars under under the inspirational captainship have shown their determination to make Ghana proud by qualifying and deserved the support of all Ghanaians.
Present at the ceremony were senior officials of the Ministry of Foreign Affairs, and two of the contributors to the fund, Mr. Salifu Alhassan, a Ghanaian proessional resident in Freetown and Mrs. Zuwera Mohammed, the Manager of the Accra Office of Association of Certified Chartered Accountants.