March 2, 2018
|
Opinions Opinion/Feature
Father Afful-Broni— The Lucifer Fanning The Flames Of UEW Impasse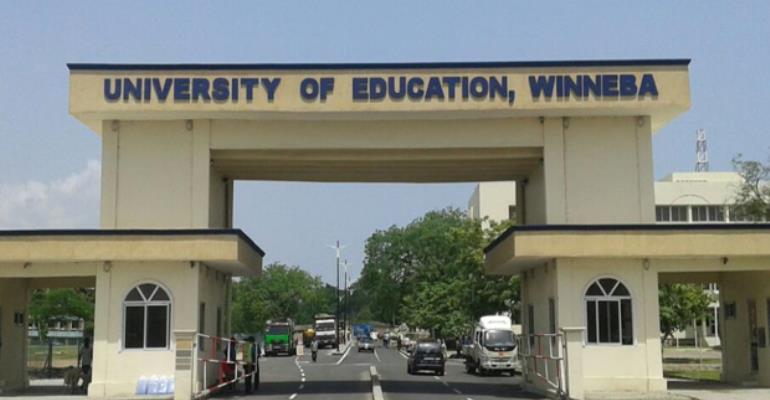 University of Education, Winneba (UEW) has not remained the same since the illegal suspension of Vice Chancellor (VC), Professor Mawutor Avoke. There is deep seated division, mistrust and ill-will among members of staff and even students; culminating in a significant drop in the quality of academic work.
Although Professor Mawutor Avoke is proven to be innocent, without any evidence to the contrary, the Pro-Vice Chancellor, Rev. Father Anthony Afful-Broni, having resolved to stand in the way of lasting peace in UEW, does everything humanly possible to thwart any attempt to reinstate him [Professor Mawutor Avoke]. This never-ending hostility has caused the university a lot of shame and embarrassment.
Currently, UEW is not represented at Vice Chancellors Ghana (VCG) meetings as the university has no substantive VC. Additionally, a number of employees/ staff of the university are exiting sooner than expected; and students are withdrawing. Enrollment rate for the 2017/2018 academic year is also likely to reduce remarkably. Worst of all, all ongoing projects in the university (most of which are aimed at promoting the welfare of students) have come to a standstill.
In spite of all these, Rev. Father Anthony Afful-Broni does not seem concerned in any way. Rather, he pleases himself and laughs in the satisfaction he finds in the very enjoyment of masterminding the chaos and sitting comfortably at the [Acting] VC position—a desire he would do anything to achieve. But why on earth would a Roman Catholic priest behave in ways that are motivated by fleshly desires? This article will attempt to answer this question by making public some interesting revelations about Rev. Father Anthony Afful-Broni, the accursed usurper.
After his unsuccessful bid to become the VC of UEW in 2015, Rev. Father Anthony Afful-Broni was reappointed Pro-Vice Chancellor of the university. However, realizing that he would have reached the mandatory retirement age by the time Professor Mawutor Avoke was through with his tenure and therefore miss the opportunity to ever become VC, he began working behind the scenes to eliminate Professor Avoke or at least sabotage his administration just so that he [Rev. Father Anthony Afful-Broni] could replace him [Professor Avoke]. This only came to light when he connived with Professor Emmanuel Nicholas Abakah (known for his open hatred for Professor Avoke) to deceive Hon. Alex Afenyo Markins (MP for Effutu) to get his support to illegally remove Professor Avoke.
First, they resorted to the court of law. How that plan failed, is known to everyone. They issued press statements and wrote articles just to tarnish Professor Avoke's public image and make him unpopular. Those too fell flat. Now, Rev. Father Anthony Afful-Broni and his schemers have established a bogus fact-finding committee whose so-called findings they take refuge in and intend to use as basis to get rid of Professor Avoke and appoint Rev. Father Anthony Afful-Broni as the new VC. This is the extent to which this poisonous snake under grass, a saboteur of a reverend father, has gone with his mischief. He has allowed his inordinate desire to control him and turn him into a BEAST instead of a PRIEST!
As if that were not enough, Rev. Father Anthony Afful-Broni has cultivated a great passion for victimizing members of staff who sympathize with his suffering innocent victims. Some of these members of staff he has either kicked out of office or whose salaries he has slashed down considerably. He has also recruited and promoted abettors to enable him continue to perpetrate evil and wield power to lead a vast operation of demonization against his perceived opponents.
It is surprising, to say the least, that a Roman Catholic priest could be so resentful and evil-minded just in order to enhance his material gain and prestige. A few years ago, Pope Francis cautioned Roman Catholic faithful, including priests, against materialism. It would seem that the leader of the world's Roman Catholic Church had Rev. Father Anthony Afful-Broni in mind when he stated that, "we see signs of an idolatry of wealth, power and pleasure, which come at a high cost to human lives." Such an attitude of a priest can only lead one to conclude that he is a devil incarnate—a chief, black, evil magician from the darkest hells—the hell of hells!
The amazing thing is that, he exhibits his greed and avarice even near God. He allocates to himself a big university land on which is built his church but does everything possible to prevent other campus ministries from having a space to build their church premises. That he misuses church finances for his luxury, is an open secret. He has complete control over all finances of the church and treats the church account like his own personal one. He makes completely unilateral decisions and no one dared to ask him any questions.
Though, on the altar, Rev. Father Anthony Afful-Broni's priestly cassock may appear as white as snow, in actual-life-practice, his heart is blacker than the hearts of his colleague inmates in the blackest hell. He dabbles in all kinds of rituals for power to bend his co-workers into strict obedience. He touts himself as someone who is well-fortified as a result of having bathed naked at midnight in River Volta. When he visited a powerful diviner at Kenyase in December, 2017, he was told he could never become a VC unless he agreed to sacrifice the lives of three staff members of UEW. Guess what. He evilly indicated his consent.
In private life, Rev. Father Anthony Afful-Broni is a male prostitute. Women fight over him even in public places. He claims he is not married (as Roman Catholic priests take a vow of celibacy) yet he has children from different women—some of whom he sends abroad with the exhorbitant leave travel claims he withdraws from UEW coffers. Everyone knows that one of his girlfriends whom he has a child with, lives in Accra. He also impregnated a UEW student who lived two houses away from Windy Lodge off the main Winneba road. Just about two years ago, when Father Anthony Afful-Broni's septic tank was being emptied, a mass collection of used condoms was found sitting at the bottom. The driver of the UEW sewage truck can attest to this claim. Such acts of hypocrisy can only be committed by Lucifer— the devil; but NOT A TRUE ROMAN CATHOLIC PRIEST!
Taking everything into account, it appears that the quest for material wealth and the excessive desire to sleep with women and satisfy their needs are factors that drive Rev. Father Anthony Afful-Broni to wreak havoc on UEW and on innocent souls. It is, however, unfortunate that government and all other stakeholders of UEW look on unconcerned as this devil, vile in the extreme, misleads everybody and drags the name of this noble institution in the mud. It is equally awful that the Roman Catholic Church would allow such a person to continue to hold himself up as priest.