Re-introduction of enrolled nursing to ease staff problems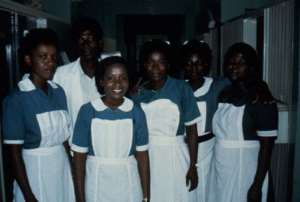 Wa, Aug. 11, GNA - The re-introduction of enrolled nursing and the proposed training of more medical assistants would not only ease the poor staffing state of health facilities in the country, but would also reduce the high rate of referral cases to the country's major hospitals. Dr Erasmus Agongo, Upper West Regional Director of Health Services, who stated this in an interview with the Ghana News Agency (GNA) at Wa on Thursday, was throwing more light on the benefits of the proposed re-introduction of enrolled nursing and the training of medical assistants.
He commended the Government for the proposal to re-introduce those programmes, as they would improve on health care delivery in the country.
"We at the Ghana Health Service have been fighting over the years for its re-introduction and I think that it is only fair to commend the Government for considering that proposals."
Dr Agongo said the stoppage of enrolled nursing since 1985 had brought untold hardships on health care providers as most of the facilities were without adequate staffing and the constant refusal of some staff to accept postings to rural areas.
He said the proposal to train senior secondary school leavers to become medical assistants was also a step in the right direction to stem the spread of diseases in the rural areas and to encourage the people to use health facilities, as services would be nearer.
"It is quite impossible to provide doctors at all the health facilities and so with the training of medical assistants, they would be able to handle most of the cases that were hitherto referred to major hospitals."
He said once the proposal had been approved it was important to provide adequate infrastructure at the training institutions to enrol more students.
"In the Upper West Region, we have only one premises for state registered nurses, community health nurses and midwives and with the re-introduction of enrolled nursing there would be the need to add more structures," he said.
The Regional Director said the re-introduction of enrolled nursing would provide more nurses to replace those who have departed the country to other areas in search of greener pastures.