Wisconsin University Unveiled Its Campus Newspaper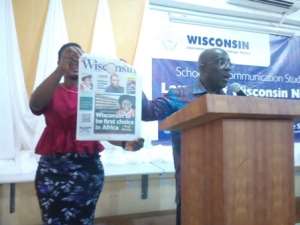 The Wisconsin International University College, Ghana, under the auspices of the School of Communication Studies, has launched its maiden campus and community newspaper in Accra.
The newspaper will serve as a training platform for students to practice what they have been taught in class, and serve as the voice for the entire community in which it operates.
Ambassador Kabral Blay-Amihere, the Head of Department, School of Communication Studies of the University, said the launch was necessary because it had been a universal practice for schools that offer Communication Studies to combine practical works for students to showcase their skills.
He said theory without practice did not make the practitioner a professional, hence the need for the Department to introduce the newspaper for students to have hands-on experience in the field.
He urged the students to take keen interest in contributing to the newspaper by writing articles of importance to improve on their communication skills.
'We live in a world of certificates and, as such, it is imperative for student-journalists to develop skills through effective writing to better their curriculum vitae and make them competitive on the market,' he said.
Ambassador Blay-Amihere urged the students to take advantage of the opportunity and identify story ideas within the area and put it into writing because that was the only way to enhance their writing prowess and become experienced in the field.
Mr George Sarpong, the Executive Director of the National Media Commission, said globally newspaper readership had dropped due to the emergence of social media, noting that social media information cannot be reliable.
Mr Sarpong said people would continue to consume social media, but when in doubt will resort to print media, adding; 'A newspaper that stays relevant to its community has the greater chance of survival'.
He urged the faculty to learn to complement social media and adhere to the code of ethics of the profession in their pursuit of practice through truthfulness, balance and accurate reporting.
'You need to work diligently and be ears and eyes of the community and let their problems be your concern since it is a learning platform for you to sharpen your writing skills,' he said.
Justice Isaac Douse, the Chairman of the University Council, urged the students to use the opportunity to write on facts devoid of acts that would affect their integrity, since journalists could use their skills to 'build and destroy'.