March 2, 2018
|
News Regional News
Minister Visits Schools Hit By Heavy Rainstorm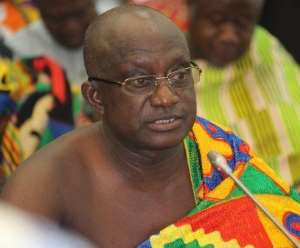 Mr. Simon Osei Mensah, the Ashanti Regional Minister has paid a working visit to Dwendwenase, a farming community in the Asante-Akim South Municipality which was hit by a heavy rainstorm on Sunday.
The storm which left in its trail massive destruction of properties including school buildings, also affected two other nearby communities -Tokwai Asuboi and Atta Ne Attah.
The entire school block of the Dwendwenase D/A Primary collapsed during the storm and the pupils have now joined their colleagues at the Presby Primary school in the community.
The Minister's visit was to assess the extent of damage caused and together with stakeholders, take appropriate measures that would help to mitigate the plight of the victims.
Mr Osei Mensah sympathized with them and promised government support through the National Disaster Management Organization (NADMO).
He said priority would be given to the affected schools to ensure that smooth academic work was restored.
The Regional Minister advised the people to ensure periodic maintenance of their buildings to minimize the level of devastation in such natural disasters.
He urged them to take advantage of the numerous government interventions to improve on their lives.
Mr. Alexander Frimpong, Municipal Chief Executive commended the Minister for taking time off his busy schedule to visit the victims of the disaster.
He said efforts were being made to roof the classroom blocks while NADMO also mobilized some relief items to support the victims.
Nana Owusu Akyem Tenten, the chief of Dwendwenase praised the Minister and the MCE for their swift response to the disaster and called on them to expedite action to fix the school buildings.