What a Beautiful Judge We Have In Winneba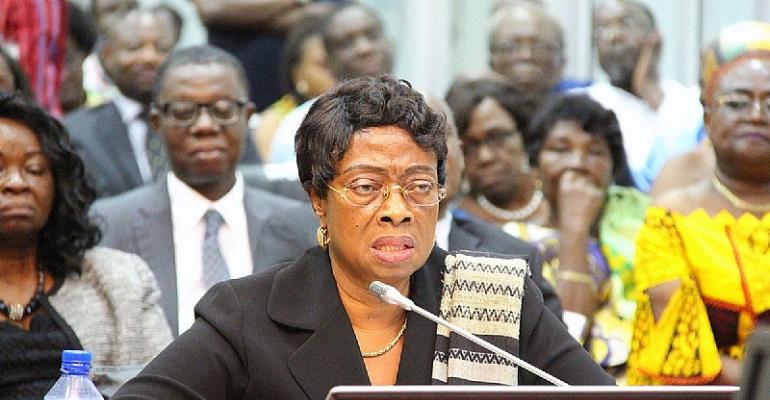 A week today I hauled myself to the Winneba District Court, to attend a hearing of a traffic offense that was done against me, nearly a year ago. The driver, in his profusely drunken state, had done a dangerously reckless overtaking in a crowded space, and in his deadly route, smashed my left doors, ripping off the left driving mirror.
I will bring you some details of this case later, especially how the Ghana Police Service has tried hard to protect the drunkard driver from facing the full length of the law. But the short story is that the case was finally sent to court, after nearly one year, and the driver was charged with reckless driving, thereupon he pleaded guilty.
Before the court sitting I had planned to serve as a hostile witness to the state, having been convinced that both the Police Prosecutor and the Investigator, have been compromised into murdering the law on their way to protecting the offender.
It was a fairly packed court room, with a good number of both literate and illiterate litigants. Yours truly was seated, fully armed with vocabularies to push onto the judge, against the police. I had done a couple of checks, and I had been cleared that I could definitely serve as a hostile witness to the state, so I waited to have the judge seated.
His Worship Oheneba Kuffour, the District Court Judge, was finally ushered into his seat. He looked younger than I expected, with no glasses on. His presence, somehow, did not instill the usual fear that comes with judges in their states. He did not particularly spot any beard, but frowned and smiled at the same time, while intermittently looked poised, as though he was angry with his table.
He did not clear his throat (this is very unusual), but had a brief whispering to do, into the ears of the court clerk, and subsequently postured himself to attract the attention of the court room, to deliver the following paraphrased message:
"I will like to draw the attention of all of you, users of this court, that I will not tolerate any person or persons who, directly or indirectly, has an interest in a case before me, who attempts to see me privately, whether directly or through another person, with the view to influencing cases before me. I have started my own anti-corruption campaign in this court, and I will apply the full length of the law if any user of this court disregard this warning.
Mr. Prosecutor (referring to the only Police Prosecutor in the court room whom I had accused of being compromised for which reason I was serving as a hostile witness) there is a seeming believe that the users of the court might have to see me, or have to see me through third parties, when their cases are pending before me, for whatever reason. As Police Officers, you are with the people. You know the community better than I do. I will like you to help the court, to carry this education message to the people, so that you can help to put a stop to the practice".
Simpa Panyin has been a social justice campaigner in the last several years. Social justice is part of the reason why I started this page, and it is part of the reason why I started Media Center for Social Justice (MCJ Ghana).
For the first time I feel hopeful that there will come a time when posterity will rise in their own defense, in protecting the legacy of our ancestors, that the rot in this country will not persist forever. A day will come when toddlers will rise, with knives and cutlasses, in search of the adults who exchanged justice for sex, and those who took goats.
As I watched Oheneba deliver his message of citizenship, I became wet in reverence to him, giving myself a feeling of ancestral presence in the court, as though the Founders of this nation have given us one of their sons, to defend the course of justice.
In my head I thought, hey young man, this is your time to get some good money. You have at least ten cases to hear in a day. Getting GHC1,000 per day, GHC20,000 per month, would not be a bad idea. Hey, you could build three houses with bribe money within two years, come on! Don't you have a girlfriend, or a wife, or children?
As I kept pilling the questions on myself, I kept celebrating Ghana. What a beautiful judge we have in Winneba, to openly pride himself of the sacredness of justice, and of freedom, giving meaning to what the color of the truth must look like, downplaying any reason why many of us are thieves; is this not the kind of judges who must be added to the list of High Court Judges? Is this not the kind of judges we need in the Supreme Court?
In an interview with him for this article, Oheneba said "we are blinded in a way, as a society, in our believe and culture, that you will have to see a big man before you could obtain justice, or before you could obtain what you rightly deserve. This is wrong, and this must stop. The Ghana's Coat of Arms, which is hanging up there, where the Judge sits, is not there to beautify the court room. That Coat of Arms is to emphasize the soul of our country, Freedom and Justice.
When justice is perceived to be on sale, then we don't have the freedom we so require. I believe in the Coat of Arms. I believe in my belief that justice is supposed to be free, that a man's value is not in the amount of wealth acquired, but the depth of impact he has on society, and this personal believe is the reason why I will not allow the slightest of corruption perception in my court".
Do you now agree with me, that this young man should be sitting at the High Court by now? As I write this article in my somewhere, I keep bowing in awe of my new hero, Judge Oheneba Kuffour, that one more person has been added to the purity of our conscience.
His Worship Oheneba Kuffour happened to have studied law in KNUST, and subsequently Ghana School of Law. He was amongst the new Magistrates who were admitted to the Bench in 2016. His first post of assignment has been in Winneba.
When asked why he did not work at the Bar, instead of becoming a judge, since there is more money at the Bar than at the Bench, Oheneba said "I believe that being a Judge opens a lawyer up to a better and bigger perspective of society and the law, as well as helping with the overall engineering of society. I am sad how society project lawyers. It seems the values assigned to lawyers is in how much wealth one acquires, rather than the impact they make on society. Both professions are noble, but the nobleness must not be seen in the making of money, but rather in the impact one has had on society".
I sat interviewing this man, as he regularly threw wisdom at me, and in between, I closed my eyes, and bowed in adoration of him, for allowing his spirit to be in tune with mankind. I saw in Oheneba a true son of the Big Six of Ghana. I saw in him the spirit of those who were fearless in fighting to save our country, from the clutches of whatever oppressors rule there was that they fought.
As I kept bowing to a true son of justice, I kept wondering where many of such judges might be hiding. I am a very worried citizen of the country. I believe our security agencies are failing us. I believe there is half justice in the courts. I believe our public officers are working for themselves. Then suddenly I come across a voice that gave me hope.
A young lawyer, who must go out there and fish for money, decides to become a Judge, and an ambassador of national conscience. A young Judge, who must be seen to be so powerful, able to twist justice, able to jail or free, able to change the course of people's truth, in ownership and rightfulness of things. Such true power handed to you, with a glee advantage of having been posted outside of Accra, and you decided to be a Roman Father?
James Kofi Annan