February 28, 2018
|
General News
Sunyani Technical University Goes Red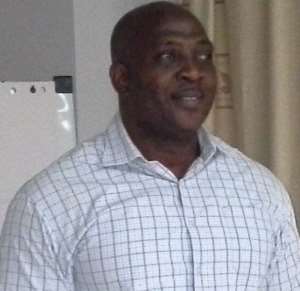 Some workers of the Sunyani Technical University (STU) in Sunyani are lacing their boots for an industrial action in protest against certain portions of the Technical Universities (Amendment) Bill, which is currently before Parliament.
The aggrieved staff have, since Monday February 19, 2018, been wearing red bands around their necks and their hands to herald what they describe as a "looming industrial action."
The current Amendment Bill seeks to replace the Technical Universities Act 2016, Act 922, which converted six Polytechnics into Technical Universities.
The six are Accra Technical University, Takoradi Technical University, Koforidua Technical University, Ho Technical University, Kumasi Technical University and the Sunyani University.
The Amendment Bill primarily seeks to convert two other Polytechnics at Cape Coast and Tamale into Technical Universities while altering several aspects of the existing Act, Act 922.
"The Purpose of the Bill is therefore to amend Act 922 to give legal backing to the conversion of the Cape Coast Polytechnic and the Tamale Polytechnic to Cape Coast Technical University and Tamale technical University respectively"
"In addition, the Bill is intended to strengthen the conversion process to ensure that the right caliber of staff with appropriate qualifications are engaged or retained to effectively execute the mandate of the Technical Universities", the Amendment Bill says in part.
But the aggrieved staff are least enthused about several aspects of the Bill and they want the Ministry of Education to withdraw it from Parliament and undertake broader consultations with all relevant stakeholders before it is re-laid before the House.
They want some aspects of the Bill to be taken out completely, especially sections 24, 27 and 42 while they sit with the Minister of Education to discuss the other aspects of the Bill.
Those sections, according to the aggrieved staff, casts a slur on the academic independence of the Technical Universities and further renders their Governing Councils powerless as almost all their core mandates are being given to the National Council for Tertiary Education (NCTE) and the Ministry of Education.
Spokesperson of the STU staff, George Agyenim Boateng told our correspondent in Sunyani that the Technical University community in the country was not consulted in the drafting of the Bill, which he said account for the numerous lapses in the Bill.
"We were not consulted. All that we were told by the Minister in our last meeting with him was that they were going to add Cape Coast and Tamale. That was the only information given to us."
"We only got the information when the Amendment Bill had already gone to the Select Committee on Education. It was the Select Committee that gave us a copy of this Amendment. They invited us and it was through them that we got a copy of it. And so we never knew what was in there until we were informed by the select committee."
On what line of action they would take if their cries fall on deaf ears, he said "as law-abiding citizens, we have written to the Labour Commission to state our case. If they don't listen to us we believe it is not going to help us and therefore we'll embark on an industrial action."
"We're however yet to decide on the nature of the industrial action. Even though we've sent a memo to the Select Committee of Parliament, we've also sent a petition to the President so these are the three steps that we are taking."
(rboah[email protected])