An Open Letter To The Minister Of Health; Of The Yale Medical Student Saga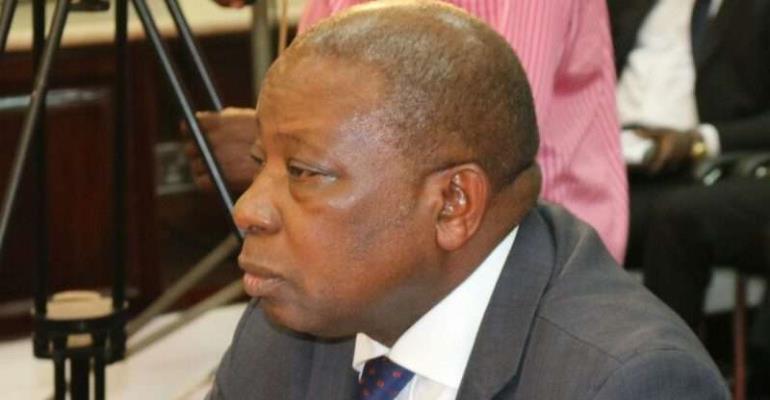 Dear Sir,
I bring you greetings. I do not intend to write you a long letter considering that it is the first time I am writing to your office. I will proceed therefore to the issues that brought the toad out at this time of the day.
A couple of days ago, a publication on Yale University's website about one Aimee Alphonso's narration of her 4weeks experience in Ghana went viral and was widely condemned by many forcing the school authorities to pull down the publication. I must admit being part of those who reacted to the publication in the most unpalatable way. I argued it was a total misrepresentation of the current state of our country. And indeed, given her descriptive scenario of the poverty nature of our country, one could clearly find reasons to rubbish the story.
However, after several days, and going back to one fundamental thing I have learnt in life, that no matter how slim you slice something there would always be two sides; nanoatomic particles even behave such. Whilst I condemn the mispresentation of the poverty picture of our country by Miss Alphonso, it will be an opportunity to assess the Ghanaian health delivery system. In the light of her experience of the health delivery system at Korle Bu, the premier tertiary hospital in Ghana and one of the largest in subregion, Ms Alphonso recounts so many things which are not too alien to many health facilities in Ghana, and indeed worse practices.
Sir, it would be an overstatement to try to think I can talk about all the challenges confronting the health system of the low middle income country Ghana. I will, with this letter, therefore ignite a debate that would enure to the restructuring of our health system to meeting international best practices.
Ms. Alphonso makes reference to the plethora of challenges of diagnostic services and physicians resulting to physical examination as the main procedure for the management and treatment of patients. Access to radiography and sonography scanning are treated as luxirious. Our diagnostic facilities are really a laughing-stock. I must say in an era of evidence-based medical practice, not so much good can be said about diagnostic services in our country. Medical laboratories that constitute the pivot of evidential medicine are only an afterthought in most health facilities. We do have very many "bathroom-turned" laboratories that are understaffed, underresourced and administratively misrepresented.
The result is that the few laboratories available are non-functional or under-functioning and clinical signs have become the bedrock of treating patients. . Physicians are therefore forced to execute "machine gun" treatment strategies. Dr. Minister, whilst we can pat ourselves on the back for efforts in standardizing the practice of diagnostic services through regulations such as HPRB Act 857 and the GS/ISO 15189:2017, there leaves much to be done in terms of restructuring of the practice. The legislative instrument (LI) that seeks to put meaning to HPRB Act 857 must be passed and implemented together with the National Laboratory Policy Documents that were sponsored by the Centre for Disease Control and Prevention (CDC-USA) now.
These documents would realign the practice of medical diagnostics in general and medical laboratory Science in particular with international standards. We need to take a look at the infrastructure needs of health facilities especially diagnostic infrastructure and additionally ensure health facilities that are being constructed have large space for diagnostic services
Sir, worth mentioning is our emergency reaponse system. Do we even have such at all? I wonder if someone can call the nearest health facility should he(she) falls critically ill without anyone around. The funny reality is even that when the patient struggles to the health facility, the system to take immediate action is missing. Patients in critical conditions are brought in taxis, tricycles and motorcycles depending on where one finds himself (herself). God really takes care of the Ghanaian patient!!! Amazingly, the referall network is one of the worse systems among the tall list of bad emergency practices.
All what the medical staff needs to do is write in the folder of the patient indicating he(she) has been referred, what's left is on the patient's relative to carry him(her) to the referred facility; no emergency abundance arrangements, no communication with the hospital of reference. I am not in the least surprised when our health system is acoladed, ",help me to die".
Indeed, a lot of deaths that occur at our health facilities are preventable. Those ambulances that were imported by the John Mahama government, can we put them to use? Can we shore-up the number and make provisions for facilities especially in rural environments? Can we develop an emergency response system where contacts of professionally trained emergency personnel would be put on active lines 24/7 and these professionals as part of their scope should provide home services on call? Can we develop a proper referral system where contacts of reference hospitals are put into these systems?
It appears the country is sitting on a time bomb when it comes to the public health and disease surveillance systems. Again, I doubt if we really have proper containment plans in the unlikely event of any infectious disease outbreak. The scare of infectious disease outbreaks in neighbouring countries with the latest being lassa fever virus in Nigeria should make us proactive. However, we remain to be reactionary.
And the question that I keep asking is whether our reactionary approach is that reliable? A lot of questions must linger in our minds on what would happen if there is an outbreak of SARS, EBV among other infectious diseases in our country? The outbreak of H1N1 209 at Kumasi Academy senior high school that claimed some lives was just a tip of what we may be facing in some future. We are plagued with seasonal outbreaks of cholera and meningitis whilst malaria lives with us all year round causing lost of lives to pregnant women and children under five years. What can we do? There is the need to develop a proper surveillance system that links hospital facilities across the country where daily diagnosis are keyed in with a central monitoring point. We must know what disease conditions are affecting different Ghanaian population on daily basis. Regional containment sites must be identified and developed to be ready for unlikely outbreak. These sites must be equipped with diagnostic abilities as well as biosafety isolation space.
Sir Minister, the sad reality is the attitude of health practitioners towards the sick. I have witnessed situations where I felt weeping because of how a health practitioner spoke rudely to an elderly patient and the patient's sentiment thereof. Health practitioners generally regard patients as being privileged to be attended to. The feeling is that they are doing the patient the greatest good. It eludes them they have a responsibility by virtue of their engagement and professional oaths of practice to render those duties.
Patients rights cannot be talked about in most of our facilities. It is often taught that a lot of patients who visit hospitals are only suffering from psychological traumas and so how one talks to patients is medicine itself. This is not the case with our health system as most medical staff have become gods that must be worshipped. Patients' relative have been put through duress just because the health professional neglects his(her) duties and further aggravated by lack of system network between departments within the hospitals and inter-hospitals.
I have had to witness a patient relative go to transport blood from one facility to the other because the facility where the patient was admitted didn't have the requested blood unit. Whilst one can attribute some of these occurrences to the workload on the few health professionals, it remains unethetical to engage patient relatives in such a manner. Again, I can attest to the fact that some of these challenges of patient relative involvement stems from the nonavailability of scope of practice for various professionals within the health system. We need to clearly define these roles and ensure they are enforced. It is time to critically assess the human resource needs of the health institutions and employ more professionals to reduce the load, after all are there not a lot of these professionals who picket at your outfit every now and then? Health professionals need to realise that from the moment of birth to death, there is life and everyone is a potential patient. The law of karma is real. The training institutions must not over focus on the academic and practical training to the neglect of humanity or psycho-social training of health professionals.
We can build a healthy life through a conscious efforts at tackling these bottlenecks. The right to quality, accessible and affordable health delivery system is much a basic right as the right to life. A healthy nation depends on the healthy life of its people.
Thank you in anticipation of your affirmative action towards improving the nation's downtrodden health system.
I shall come your way again...
Maxwell Akonde, MLS (AHPC)
Co-founder, Patient Safety Advocacy Africa
Email: [email protected]