Christians Advised To Show Their Loyalty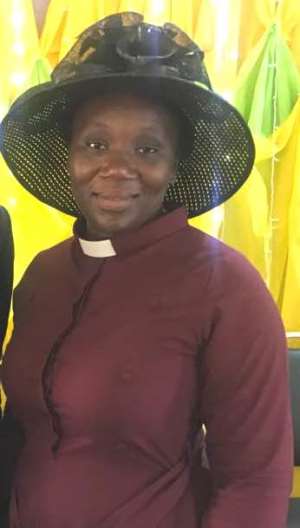 Senior pastor of the Lord's Family Community Church (TLFCC) Pst. Grace Appiakorang, has admonished Christians across the world to prove their loyalty to Christ by standing firm in spite of the numerous challenges facing the church in this generation.
According to her the church is losing great number of souls in the Western countries because believers shifted from the main focus of Christianity which she said is reconciling the lost world to Christ.
Unfortunately she noted, the situation in Ghana, and Africa for that matter is becoming worse with fear that if Christians do not show their loyalty to Christ, 'even the very few who are in church today will leave'.
Pst. Grace Appiakorang speaking in an exclusive interview with this reporter after the climax of the church's 6th anniversary in Kumasi noted that the 'dying state of Christians' loyalty' has made it difficult for them to win more souls for Christ.
"The Apostles were able to do all they did in their time because of their unflinching loyalty to Christ because they believed him with all their hearts, how can we also ably continue the work they did if we leave Christ and go after worldly things". She noted.
She said the fast rate at which the world is developing and what she called negative knowledge is growing, Christians have to be resolute and 'do the work of an evangelist' no matter the challenges they face saying 'that is how we can prove our love and loyalty to Christ our Savior'.
The quest for material gains she pointed, has been one thing the devil has been using to mislead Christians from right paths as many are unable to keep their righteousness after they gain wealth.
"I am not against Christians becoming wealthy but someone who gains wealth when he does not know how to still maintain his holiness and right standing with God, is like putting fire in the hands of your two year old baby, even though the fire can be very useful, he won't know how to use it without getting burnt".
She advised Christians in Ghana to study the Word deeply and ask of insight from the Holy Spirit so that the different ways of interpretation of scriptures will be reduced, this she said would reduce the ridicule unbelievers are subjecting Christians to in the country.
The Lord's Family Community church is a Christ centered Pentecostal church in Kumasi with the main focus of soul winning to ensure that as many people as possible can make it to the Lord during rapture or after death.
As part of their celebration, the church embarked on series of soul winning outreaches which they explain is their core mandate. The month-long celebration also saw the inauguration of the Women's Ministry of the church.