World Bank Denies Kufuor's claim ...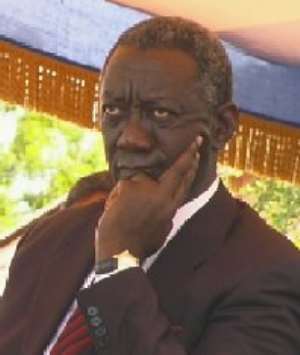 ...on per capita income Officials of the World Bank office in Ghana say they cannot confirm President Kufuor's assertion that the country's per capita income has gone up to 600 dollars. A local radio station - JoyFM - has since Tuesday being seeking independent confirmation to the President's comments, but no official from the statistical services or related institution has been able to confirm or deny the statement. The President first broke the news on the new per capita income of 600 dollars during his recent trip to Jamaica. He based his comments on a review of the computation of the per capita income using year 2002 as the base year. Also there is a school of thought that the country's per capita income for 1999 and 2000 were understated by about 30 percent.
The proponents who are Ghanaian economists argue that if the correction is effected it could push the country's per capita income higher than the current figure of about 400 dollars.
At the last check some two weeks ago, the Government Statistician confirmed that a review of the computation of the per capita income was on going but said the new figure could not be determined until later in the year.
Others have also argued that the president's statement at the time was in a rush since work was still at the elementary stages.
However the President at his conference on Tuesday restated his statement adding that the figure had now been confirmed by the World Bank and the International Monetary Fund, IMF.
"We are already currently at around 600 United States dollars per capita income and this is confirmed by the World Bank. Unfortunately our statistical department till recently has not been able to confirm that we are beyond $ 470 that has been sort of taunted around for so long. But we are sure and aware that we are beyond the 600 bracket and this is confirmed by the IMF. The ministry of finance on its recent calculation is also confirming this", he said.
However when the local radio station contacted the IMF office in Accra, the officials said, the Country Manager, who is the only one to comment on the matter is not in the country.
On the other hand officials at the World Bank office say the figure available to them is $380, which is far fetched from the 600 dollars that the President mentioned.
But the concern is why the president of the nation should be quoting the IMF and World Bank as sources of his statistical data on Ghana, when these institutions rely on data from the Ghana Statistical Services for the figures they put across.