President Mahama Has No Shame-DI Boss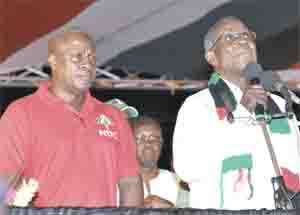 Politics is meant for the public good, but at times you ask yourself the true intentions of some politicians; you try to figure whether they have the nation at heart or not. I believe that there are some politicians who constantly think about the development of the country, and its emancipation from poverty and disease. One of such persons is President Akufo-Addo, who has proven to all that the development of Ghana is his prime concern, and the defeat of poverty his heartbeat.
However, former President Mahama, who performed poorly when he led this country never presents himself as a politician who seeks an improvement in the living conditions of the people, but himself and the few around him. In fact, his leadership has been the worst under the Fourth Republic superintending over rot, waste, corruption, unbearable hardship among others. What was a single notable achievement of President Mahama? Yet he is trying desperately to rubbish the significant gains and progress being made by Nana Akufo-Addo.
Mr. Mahama, majority of Ghanaians are happy and grateful to the NPP administration for giving them Free senior High School Education; we are grateful to the current government for giving us uninterrupted power supply; we thank the government for stabilizing the economy, and running an accountable, transparent and responsible government. You could not give us free senior high school, somebody has, so why the constant and envious attacks on the intervention?
President Mahama wishes the free senior high school program fails, but it will not. He seeks to create disaffection against the program, but he will not succeed. Even the progressive free senior high school education you could not do it; you failed miserably. The small things you could not do; somebody is doing the big things, and you wish they fail. This program will succeed, Ghanaians will support it and the country will benefit at the end. President Mahama is not being truthful to Ghanaians; he cannot be trusted with our future; no, he cannot. He has no shame.
God bless Ghana!
Dr. Kingsley Nyarko
Executive Director, Danquah Institute