Buipewura Hosts PBC Board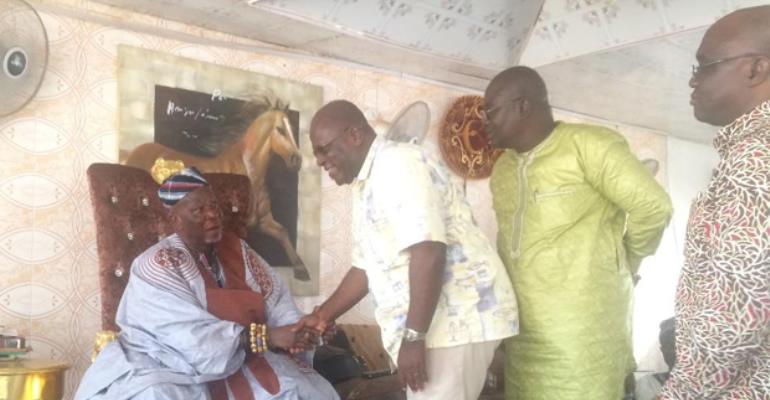 Board members and chairman of the Product Buying Company (PBC) have paid a courtesy call on the Buipewura to thank him for his support and assistance towards the establishment and operations of the shea nuts factory in Buipe.
The shea nuts factory was commissioned in 2012 by former President John Mahama.
PBC Limited is a Ghana-based company which buys, collects, stores, transports and deals in cocoa, coffee and sheanuts.
The Board Chairman of PBC Shea Limited, Joe Danso, expressed the board's gratitude to the Buipewura for his immense contribution, support and assistance towards the operations and management of the factory.
He revealed that together with the board, plans had been put in place to expand the factory to create more employment and also increase its productive capacity.
Welcoming the team, Buipewura, Mahama Jinapor II, acknowledged their hard work and efforts to making the factory operational.
However, he indicated that instead of expanding the factory, the resources for the expansion should rather be channelled towards improving, increasing and developing shea nut trees.
According to him, unlike the southern part of the country where gold, timber and coffee are found, shea nut is the gold, the coffee and the timber of the north.
He added that even though the expansion of the factory is a laudable idea, there is no point in expanding it when there is no raw material to feed it with.
"You don't necessarily have to expand the factory, rather adopt means of increasing, improving and developing shea nut trees to have enough raw material to feed the factory for its operations."
The Buipewura also admonished the board to set up a shea nuts development board, which will see to the development of shea nuts as in cocoa.
"I will appeal to the board to provide, especially the women, who go around picking the shea nut with safety material because almost every year we record sneak bites due to the lack of safety materials to work in the bush," Mahama Jinapor added.