Galamsey To Be Monitored By GhanaSat Two Space System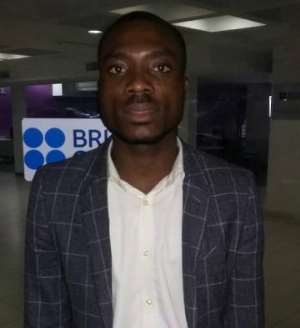 Mr Joseph Quansah, a Technical Member of the Space System Technology Laboratory of All Nations University College, who discovered GhanaSat One, has said the team is developing GhanaSat Two to help fight galamsey (illegal mining).
He said the Ghana Satellite Two christened (GhanaSat Two) would be ready by 2020-2021 to help salvage the polluted water sources, farmlands and forests as well as save lives of the miners.
"We want to use this Satellite technology to help curb this problem, so whatever data we get from the Satellite we analyse it and give early information to Environmental Protection Agency (EPA) and those who are in charge to help solve this illegal mining problem that is going on in the country," he said.
Mr Quansah stated in an interview with the Ghana News Agency, at the Great X event in Accra, organised by the British High Commission.
The Great X event is to offer a platform to young innovators to speak for about five to ten minutes on innovative ideas and ambitions for driving change, and to encourage the youth achieve their dreams.
Mr Quansah said government spent about GHC2.6 million to fight illegal mining, which could be channelled into other sectors to boost the economy and improve the standard of living of Ghanaians.
He said the GhanaSat 2 would be equipped with a high resolution camera that would take images of the galamsey prone areas when it's flown over Ghana.
"So with the image that we will take, the engineers will analyse the data, and with analysis we will know when water bodies are being polluted in the prone areas," he said.
He said the GhanaSat 1, fully sponsored by All Nations University College was a starting point to innovate greater things, however the GhanaSat 1 also had a camera to monitor the coastal belt and had also served as a motivation for young people.
Mr Hayford Siaw, the Acting Director of the Ghana Library Authority, speaking on the topic: "Using technology to overcome barriers to education" advised the youth to use the internet wisely to enable them to gain more knowledge by accessing teaching websites.
Mrs Regina Honu, Social Entrepreneur, software developer and founder of Soronko Solutions, speaking on the topic: "Empowering girls in STEM", advised the public to do away with socio-cultural factors and all forms of discrimination that inhibited the participation of girls in Science and Technology.
She advised parents and teachers to encourage female students to take up careers in Science, explaining that Science Education was a good investment, which must be encouraged.
Mr Iain Walker, the British High Commissioner to Ghana said the British High Commission was committed to supporting young innovators and therefore advised the youth to focus on their life-long ambitions and work hard to achieve them.
GNA
By Kwamina Tandoh, GNA