ADR Centre Of Gamey And Co To Be Launched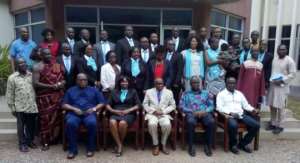 Mr Austin Gamey, the Chief Executive Officer of Gamey and Gamey Group has said its outfit will in March launched the 'Gamey and Co Appropriate Dispute Resolution (ADR) centre'.
Mr Gamey said the centre would provide platform for institutions and businesses across the country to resolve their disputes and differences early and also offer ADR practitioners to practise and earn income.
Mr Gamey said this on Saturday at the graduation ceremony of the 19th cohort, where 22 students graduated in professional Executive Master of ADR and new intake of 38 students to pursue professional Executive Master of ADR.
The student went through six months, two weeks course in self-mediation, leadership or managerial mediation, executive mediation and professional mediation to become People Using Language Skills Effectively (PULSE).
He urged the graduates to use their knowledge acquired to be 'agent of change' in the lives of clients and society in mediating disputes and said the law courts would be less burdened if ADR was appreciated and accepted as a viable means by which non-criminal issues should be resolved without resorting to the courts.
Mr Gamey said in the USA, Ireland and other countries, well over 80 per cent of cases now used ADR before considering the traditional court system.
According to him, the rate of land disputes in recent times was devastating, divorce cases alarming, saying the recent events of chaos in Togo and other African countries served as a wake-up call for mediators to go the extra mile to resolve disputes.
He said it was important for a mediator in resolving dispute to consider negotiation perceptions of the degree of control over the past, the degree of significance of the priorities in the present and the degree of clarity for the expectations for the future.
Mr Gamey explained that negotiation would lead to an acceptance of responsibility for the mandated change and if the follower felt a high degree of control and significance and clarity, the attitude toward the change would shift and would accept responsibility for it.
Mr Philip Gamey, the Chief Executive Officer of Institute of Executive Studies urged the granduands to consider exploring on conflict risk assessment and also develop a conflict prevention policy for companies and institutions.
Mrs Joyce Atta Gyamfi, the Class President for the 19th Cohort thanked the management of the Institute for imparting knowledge in them and pledged their commitment to inculcate the skills into actions.
The participants were presented with certificates for successfully completing the course and Mr Johnson Nana Kyei and Mrs Vivian Assibi Banguu-Ekellah received the certificates of punctuality.
GNA
By Kodjo Adams, GNA